Dutch Dressage News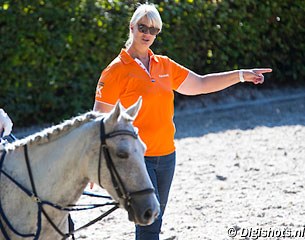 The Dutch Equestrian Federation has appointed judge Monique Peutz and trainer Alex van Silfhout as the new Dutch team trainers for Pony, Junior Riders, Young Riders and Under 25 Riders.
The position of team trainer for the youth riders always used to be split up for ponies and junior/young riders but due to budget cuts the Dutch Equestrian Federation merged it in 2009 and had Tineke Bartels working on the job. The Under 25 coaching used to be part of the function of the Grand Prix team trainer, but that job has been passed onto the junior/young riders' coach.
Bartels announced her retirement just days ago and the KNHS has already lined up two new coaches, splitting the position back up. 
The 53-year old Groningen based judge Monique Peutz will be in charge of the pony riders. She is a Grand Prix dressage rider, an FEI 4* judge and national level 5 dressage trainer.  Peutz got her Bereiter degree in Warendorf and did an internship with Reiner Klimke. She competed the paint stallion Samber up to GP level.
The 62-year old Lunteren based Grand Prix trainer Alex van Silfhout will coach the Dutch junior, young and Under 25 riders.  Van Silfhout competed at international Grand Prix level and now is a trainer with his son Diederik as Dutch Olympic team rider being his top student.
Photo © Digishots
Related Links
Tineke Bartels Resigns as Dutch Team Trainer for Pony, Junior and Young Riders
Laarakkers Replaced by Tineke Bartels as Dutch Pony Chef d'Equipe
Samber Celebrates 30th Birthday
What's Happening: December 2009 - Part 2 
Van Silfhout Back In Dutch A-Team
Extraterrestrial Edward Gal at First Olympic Selection Trial