Dutch Dressage News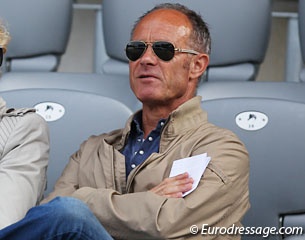 The Dutch Equestrian Federation (KNHS) has appointed Rien van der Schaft as new team trainer for the Dutch Grand Prix combinations. Van der Schaft is replacing Johan Rockx who took over from the late Wim Ernes.
The 62-year old Van der Schaft will take up his new position as of 1 January 2017.  The former international dressage rider is excited about his new job.
"I'm tremendously looking forward to being team coach," said Van der Schaft. "For a trainer it is great to work with the best Dutch dressage riders. With much joy I will put my knowledge and experience to use for the Dutch dressage top. Together with my colleague youth team trainers and riders I hope to produce nice achievements in the next few years."
Maarten van der Heijden, KNHS technical director, has a clear description of Van der Schaft's duties: "To be  harmonious with the newly appointed youth team trainers, to be harmonious in the presentation of our horses in the show ring at the absolute top and to be harmonious in the education of the riders and horses from grass roots to the top."
The Dutch Grand Prix team trainer used to be in charge of the Under 25 Grand Prix riders as well, but this function has been handed to the new Dutch Junior/Young Riders team trainer.
Van der Schaft, who had already applied for the job as U.S. Team trainer in 2013 but lost the position to Robert Dover, runs a professional dressage yard "Stable Sprengenhorst" with his wife Inge and daughter Romy. Rien has trained and competed nine horses up to Grand Prix level. He was member of the Dutch team from 179 till 1983 and competed at the Alternate Olympic Games in Hoodwood, two European Championships and one World Championship.
Photo © Astrid Appels
Related Links
Johan Rockx' Dutch Team Trainer Position Not Extended
Johan Rockx Appointed Dutch Team Trainer Until Rio Olympics
Johan Rockx Appointed Assistant to Dutch Team Trainer Wim Ernes
Wim Ernes Passed Away
Wim Ernes to be Appointed New Dutch Team Trainer
Sjef Janssen to Remain Dutch Dressage Team Trainer