2016-2017 KWPN Stallion Competition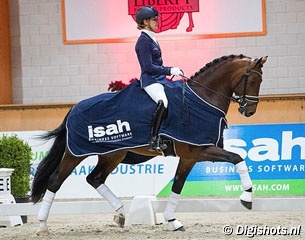 The 4-year old Henkie, the 5-year old Guardian S and the 6-year old Four Legends became the winners of the second leg of the 2016-2017 KWPN Stallion Competition held at equestrian centre De Peelbergen in Kronenberg, The Netherlands, on Saturday 17 December 2016.
For the first time the Gelderlander bred Henkie (by Alexandro P x Upperville) competed in the regular L-level division with the other KWPN bred stallions and the bay topped the board. Under Adelinde Cornelissen, the bay stallion scored 93 points for the victory. Two stallions tied in second place with 85 points: Hometown (by Apache x Ferro) ridden by Diederik van Silfhout and Trafalgar (by Totilas x Lord Loxley) under Marieke van der Putten. Both stallions scored high with their trot and canter but lost points in walk.
"He's a real dressage horse to and this summer he proved he's able to score well at the World Championships in the 4-year old division," said Cornelissen about her winning ride Henkie. "He gives an incredibly feeling. Henkie has so much power, looseness and ability to collect. He can do small, he can do big, you only have to push the button and he does it."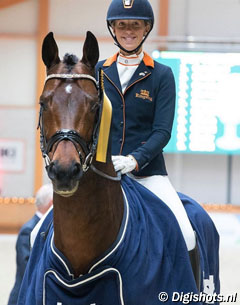 In the M-level division for 5-year olds Kirsten Brouwer and Guardian S (by Bodyguard x Trento B) beat the winners of the first leg, Marieke van der Putten and Toto Jr (by Totilas x Desperados), by one point. Brouwer  scored 87 points on Guardian S with 9s for trot and self carriage. The Hanoverian bred Toto Jr finished on 86 points. Cornelissen and the black Governor (by Totilas x Jazz) were third.
"The difference between both stalions, who both are extremely talented, was in the consistency. Guardian S presented a more constant image, whereas Toto Jr started his test carefully and should be more consistent in the contact," judge Mariette Sanders explained.
In the Z-level class, the winner of the first leg, Four Legends JS (by Wynton x Ferro) also won the second round but this time under his new rider Stephanie Kooijman, who only took over the ride two weeks ago. The pair scored a winning total of 84 points.  Franka Loos and Foundation (by United x Jazz) landed second place with 83 points, while Belgian Larissa Pauluis finished third on Barroso (by Bordeayx x Saros xx).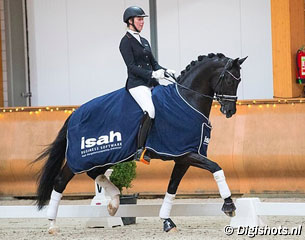 "My day's been made," said an ecstatic Kooijman. "Four Legends got such a great temperament. I haven't even ridden him 10 times and he's so incredibly co-operative. Of course the fine-tuning can be better, but it only needs time."
Photos © Digishots
Related Links
Daily Diamond, Toto Jr, Four Legends Win First Leg of 2016-2017 KWPN Stallion Competition 
Van Ommen Leaves De Winter Dressage, Kooijman to Ride Four Legends