Danish Warmblood Breeding News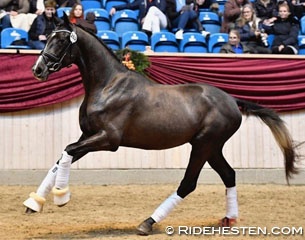 The Danish warmblood society has wrapped up its pre-selection days for the 2017 Danish Warmblood Stallion Licensing in Herning, Denmark, next March. Two pre-selection days were held in Vallensbaek and Vilhelmsborg.
At the first pre-selection day in Vallensbaek on Sunday 11 December 2016 nine dressage bred colts were accepted. The licensing committee, consisting of Poul Graugaard, Ole From Christensen, Claus Hansen and Johnny Hansen, assessed the colts on hard surface, in freedom and on the lunge line. 
On the second, bigger pre-selection day at the national equestrian centre in Vilhelmsborg on Thursday 15 December 2016, a collection of 70 dressage and jumping bred colts were presented. Twenty-six dressage bred colts received a positive verdict.
The best represented sire is Blue Hors stud's Dutch warmblood stallion Zack (by Rousseau x Jazz) with five selected offspring. Sir Donnerhall II (by Sandro Hit x Donnerhall) has four offspring selected for Herning.
The accepted colts are:
Vallensbaek
Vinci Arapaho (by Apache x Hohenstein x Don Schufro)
Vallos Dreaming Marong (by Dream Boy x Baccarat xx x Future Cup)
Lord Fountain (by Fredensdals Fountain x Gribaldi x Schwadroneur)
Follow Me II (by Furstenball x Donnerschwee x Alabaster)
Springborgs Guardian (by Hotline x Romancier x Diamond Hit)
Hesselhoj Shaka Loveless (by Sir Donnerhall II x Milan x Kawango)
Zisola (by Zack x Come Back II x Feiner Stern)
Vallos Zeus (by Zack x Future Cup x Romancier)
Orion (by Don Olymbrio x Solos Landtinus x Ragazzo)
Vilhelmsborg
Sogaards Bon Royal (by Bon Bravour x De Noir)
Touch of Olympic L (by Don Olymbrio x Fidermark)
Juliovanck PP (by El Capone x Londonderry)
Florist Enshoj (by Floricello x Midt West Ibi Light)
Kjaerhoilm's Fendi (by Franklin x Diamond)
Fredensdals Fifty Cente (by Franziskus x Donnerball)
Jestis Fifty Cent (by Furstenball x Weltjunge)
Liam G (by Londontime x Belissimo M)
Quintana (by Quantensprung x Desperados)
Dortheasminds Rockey (by Rockefeller x Sam Sam)
Shakespeare Fly (by Bogegardens Santiago x Romanov)
Bogegardens Shaka Loveless (by Bogegardens Santiago x Lionell)
Kastaniegardens Safran (by Bogegardens Santiago x Romancier)
Torveslettens Sylvester (by Sezuan x Stedinger)
Eq Sequence (by Sezuan x Quaterback)
Salieri (by Sir Donnerhall II x Don Crusador)
Runehoejs Shiva (by Sir Donnerhall II x Induc)
Svante G (by Sir Donnerhall II x Graf Anhalt)
Springbank II (by Skovens Rafael x De Niro)
Vesterdams Vevalentino (by Veneziano x Weltjunge)
Vegas Volt (by Veneziano x Don Gregory)
Kamar's White Noit Hit (by Wilkens x De Noir)
HL Zacre Coeur (by Zack x Don Schufro)
Katholt's Hamilton (by Zack x De Noir)
Baks Zacco (by Zack x Don Romantic)
Don Delicious Kilen (by Don Olymbrio x Don Romantic)
Photo © Ridehesten
Related Links
Changes in Store for the Danish Warmblood Stallion Licensing Committee
Foreign Bred Colts Dominate 2016 Danish Warmblood Stallion Licensing