Belgian Dressage News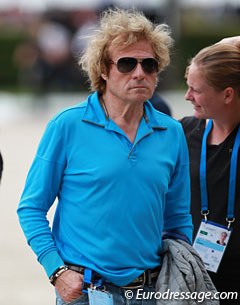 The Belgian Equestrian Federation (KBRSF) has extended its contract with Sjef Janssen to keep the Dutch coach as Belgian Dressage Team Trainer until the 2020 Olympic Games in Tokyo.
The KBRSF and the 66-year old Janssen came to an agreement and a new contract was signed which guaranteed the Dutchman's team trainer's position until 31 December 2016. Sjeff Janssen has been Belgium's Technical Advisor for Grand Prix dressage since 2013. 
"After a through evaluation it was decided that Sjef Janssen will stay on coaching the Belgian team with a team qualification for the 2020 Tokyo Olympic Games in mind," said the KBRSF. 
2016 has been a year of major highs and lows for Belgian Grand Prix dressage. For the second time in a row Belgium was able to qualify an individual rider for the Olympic Games (in 2012 Claudia Fassaert went, in 2016 Janssen's student Jorinde Verwimp went). And never before has Belgium had a Grand Prix combination that is able to score almost 75% at major international shows with room for more (Fanny Verliefden on Annarico). Unfortunately that horse missed out on Rio having sustaining a major injury at the end of a two-week-three-CDI's competition string in March 2016 (Lier 2x, 's Hertogenbosch) to earn that Olympic slot. Furthermore, participation at a Belgian Grand Prix Championships been never so low in years as at the 2016 edition: only four riders showed up for the Nationals!
The KBRSF believes in Janssen's potential and has set specific goals for him to achieve: a top 8 team ranking at the 2017 European Championships in Gothenburg, a top 8 team ranking at the 2018 World Equestrian Games in Tryon and a top 8 team ranking at the 2019 European Championships in Rotterdam. In 2019 the Belgian team will also need to qualify itself for Tokyo.
"At the Olympic Games the bar will be high for the Belgians. The federation also aims for a top 8 team ranking of the dressage team," said the press officer. 
Photo © Astrid Appels
Related Links
Jeroen Devroe Wins 2016 Belgian Grand Prix Championships 
Fanny Verliefden and Annarico Drop Out of 2016 Olympic Race
Jorinde Verwimp Officially Nominated as Belgian Individual for 2016 Olympic Games
Sjef Janssen Hired as Dressage Technical Advisor for Belgium