Training Your Horse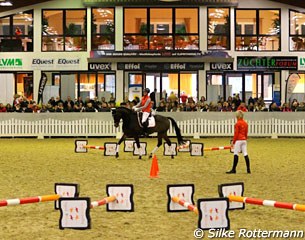 When Ingrid Klimke took center stage on a frosty, but beautiful sunny Saturday morning on 12 November 2016, 1700 attendants in the completely sold out indoor arena of the Westfalian Horse Center in Münster-Handorf paused for a moment. The main protagonist of the day kicked off her symposium with reminding them of the "one place which remains empty here today." Her mentor and a ong-time friend of the Klimke-family, major Paul Stecken, passed away just a few weeks earlier at the grand age of 100. His simple, but so true sentence "Correct riding is enough "would run like a red thread through the day.
This symposium day had been a long awaited one by the crowds —fans, horse lovers, equestrian VIPs alike -- ever since Ingrid Klimke had to cancel the initial date last May due to surgery. Klimke and her amazing team of riders, horses and volunteers did not disappoint the packed stands with this day which ran like a smoothly oiled machine and even though it was totally professionally organized, it still remained a family affair; something which has always been a hallmark of the Klimke dynasty and which has added to their popularity amongst the public.
The aim: "A content horse which works on his own as much as possible"
Ingrid Klimke has promoted her father's motto "ride for your own delight" in different ways and on this winter-like day in Münster she made clear from minute one that the content horse, who thinks for himself, is the aim of her work. "Today we want to show you excerpts how we achieve this," she roughly outlined the programme of the day.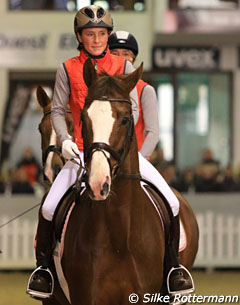 The first four-legged actors to face an atmosphere not far from the biggest indoor shows were a dissimilar chestnut duo. Carmen Thiemann, Klimke's groom for more than two decades, rode small tour winner Geraldine (a Rhinelander mare by Fürst Grandios x Tolstoi) and Ingrid followed behind on the Westfalian stallion Firlefranz whose striking blonde mane and bubbling attitude caught the onlooker's eyes.
Barely 4 years of age, this son of Ingrid's small tour winning stallion Franziskus, possibly has never encountered an arena like that before and at first he once spun round. What was unexpected, became an opportunity for Ingrid to demonstrate how to handle such a tricky situation and give the horse confidence in an atmosphere like this, something so important for horses destined to make a career in breeding and sport. "At the beginning of the warm-up phase it is important to ride the horse with the longest reins possible," Klimke explained.
While the leggy youngster took the surroundings in with all his senses, she put her words into practise. Cleverly using the comparatively experienced mare Geraldine as a "lead-horse", Firlefranz followed her at the beginning until he increasingly focused on his smiling rider. "Geraldine was rather timid at the beginning, now she has courage," Ingrid stated about the mare who seemed so relaxed and confident as if this attitude had always been her nature. Klimke stressed that in the warm-up phase the rider has to achieve rhythm, relaxation (losgelassenheit) as well as a soft contact, "but in a way that the horse is active, diligent and not hasty."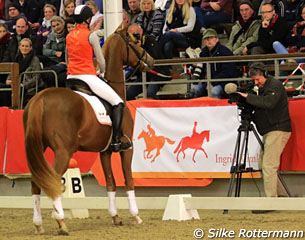 When Firlefranz clearly spooked from the cameraman of pferdia tv, Ingrid elaborated on how to approach such a situation, which is common to many riders, whether it be indoors or in the forest, on a youngster like hers or a more experienced horse. Klimke turned the young horse towards the object of fear, speaking soothingly. While everybody could see that the young stallion was still anxious, head high and ears stiffly pricked, he also showed trust in his rider by not trying to violently evade the object. Subsequently he was asked to pass the camera repeatedly on big circles before executing different exercises and approaching the camera at one long side of the arena again "with shortened reins and shoulder-in-like." 
While it surely was not expected for such an inexperienced "teenager" like the self-confident Firlefranz to be picture-perfect in front of such a scenery, his demonstration was still textbook. At the end he didn't care about the camera anymore and passed it like his older stable-companion Geraldine. He was rewarded with given reins as his lesson was learnt, both for Firlefranz and the 1700 pairs of eyes following him.
Calmness and Relaxation as Key Factors
After this rather challenging ride on her youngest horse, the double Olympic champion and Rio silver medalist stayed on the ground for the following two rides.
Her new apprentice Sophia Schulze Eistrup and her former apprentice Lara Heggelmann presented two 5-year-old Fürstenball offsprings in succession.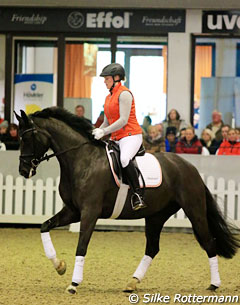 Schulze Eistrup rode the beautifully built black mare Farlana TS and worked on suppleness and throughness by executing serpentines on both hands with several loops, an excellent tool in the training of a horse. Even though Farlana TS is still a young horse, the mare became more and more relaxed during the alternating work which also included cavaletti sequences, halts and transitions. In particular the first extensions towards the end of their demo were good proof that the appealing horse dealt very well with the atmosphere and trusted her rider as she remained calm and did not become hasty. Ingrid pointed out that the mare "becomes more and more relaxed. Look at the play of her ears. It indicates that she is still impressed, but she trusts Sophia." The content snorting of the athletic horse made her smile as it is a sign that a horse relaxes and "it should be heard in every training session, if possible." Klimke's new apprentice finished her ride with a swinging trot in forwards-downwards position "as we structure the last phase like the warm-up." Lara Heggelmann showed the identically aged Fürstenball stallion Fürst Stern, a stallion ""who luckily has not yet realised his gender."  The noble dark bay, who is on the way to L / M -level, worked on lateral movements and on cavaletti on bent lines in trot.
Then it was the turn on Ingrid's 14-year-old daughter Greta Busacker. The tall blonde who was a jack of all trades behind the scenes on that day, is the spitting image of her mother when riding: the same silhouette, the same giving hands and feeling seat. Riding the 6-year-old Vitalis-daughter Soma Bay, who has been competed by her mother at the Bundeschampionat in dressage this year, Greta presented the sympathetic mare convincingly. "Soma Bay is a favourite in our stable. She's a so fine and such a cuddly horse who always tries her utmost to please," Ingrid summed up the round mare's character. Indeed the onlooker had the feeling throughout the demonstration that this compact Westfalian is at peace with herself and is a happy fellow who enjoys working with the rider.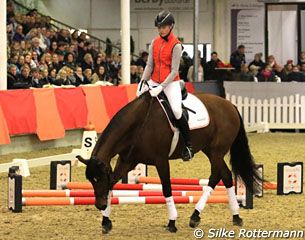 The young pair worked on transitions between the gaits which Greta's mother recommended at the beginning of the working-phase. Single flying changes and walk pirouettes followed during which Ingrid stressed the correct execution of the movements themselves. She also gave some brief remarks on how the correct seat should be, the indispensable precondition for the horse to move correctly. Soma Bay gave yet another proof that the training sessions contributed to her relaxation by showing an absolutely textbook stretch forwards-downwards in trot at the end of her ride. The rider holding only the "buckle of the rein" and the mare arching her back and stretching downwards out of the withers with a round top-line. While a correct stretch forwards-downwards seems natural to all of Klimke"q horses that day, it was a good opportunity to school the public's eye what it really looks like. Often a wrong stretch is executed when a horse falls onto the forehand (also seen at the Bundeschampionate, unfortunately). So a deep stretch can be a visible proof of how correctly a horse is worked and trained.
At the end of Soma Bay's presentation the crowd had the possibility to ask Ingrid questions and they used it extensively so that Klimke's lunch-break was a bit cut short as she patiently replied to all the requests. Referring to Soma Bay a young woman remarked that "the mare has developed greatly, in particular in the trot." This prompted Klimke to distinguish the value of good training by saying that "every horse can learn to trot. It is a gait which can be developed on every horse and with 6 years of age Soma Bay's development is not yet finished." In a time in which, according to Klimke "there are most beautiful modern and light riding horses," it is easily forgotten that training should improve the horse and not just teach him certain movements, so her justified remark seemed of extra importance.
Refined Riding
Photos of Ingrid or her stable manager Carmen riding the eventing or dressage horses just in a neck-ring made of rope are known to the public. American Linda Tellington-Jones introduced the neck rope in Germany many years ago. While some may assume this is just a nice trick to show how obedient and trustworthy Klimke's horses are, these unusual tools serve the training and when properly used can refine riding.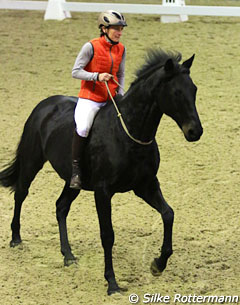 Klimke's now 19-year-old "almost thoroughbred", the tiny narrow Hanoverian Abraxxas (by Heraldik xx), touched the hearts of the audience with his appearance after the lunch-break. Ridden without a saddle and in a neck-rope by his life-long groom Carmen, he showed flying changes, transitions, rein-back and jumped in a beautiful balance with no signs that revealed a long career at the highest levels in one of the most demanding disciplines equestrian sport, eventing. He was the living proof that classical and therefore horse-friendly training serves a horse's health and happiness.  
How a thin neck-lace positively can influence and refine riding was demonstrated by Klimke's former apprentice Sophie Leube who now runs her own training stable and focuses on three-day-eventing. Her 8-year-old gelding Captain Veterano (by Captain Fire) was described as "sometimes a bit over-motivated" and actually he got a bit hot in the atmosphere of this event. "The rider has to remain calm and has to breathe deeply in such a situation. The neck-lace can be useful to be held in one hand and helps to bring the horse back. This is also valid for a horse that leans on the bit," Ingrid remarked. In regards to Captain Veterano, who increasingly focused on the cavaletti work and lateral movements, she commented that "he is able to do better, but we must make compromises with horses and sometimes be content with what we get on one day."
"The Good Rider Asks Himself Questions"
While Ingrid descends from a generation of riders who still practise the correct seat and position at the lunge-line, this has nowadays gone out of fashion. For the more experienced riders there are also more effective possibilities to refine the own riding. With the 15-year-old Johanna Schulze-Thier on the 12-year old allrounder Ceon, Klimke gave some examples of how to foster the correct seat. Two traffic cones positioned oppositely on a large circle served an exercise in which the rider had to change between canter and trot repeatedly and on the spot. The talented young girl sat immaculately by smoothly following her horse's movements in the repeated transitions and never hindering it in his movement by leaning back or by giving pulling half halts.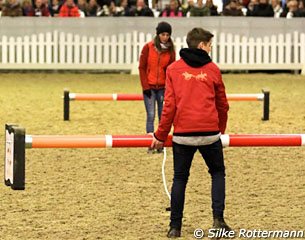 Klimke took a clear, though not surprising, stand by stating that "I totally disapprove of sitting behind the vertical, pushing and shoving. The rider always has to follow the horse's movement. If the calves are too far forward, the rider is unable to bring the horse under the centre of gravity." She even went further by saying "the good rider asks himself questions and sets himself clear goals. He always asks himself what he can do better? Body, mind and soul belong together, so he has to permanently empathize with the horse's thinking. This also means to blank out everything else and be completely with the horse."
Riding Towards Art
While the previous hours had been interesting for every riding enthusiast whose heart is beating for dressage, it took until the end of the symposium day for Ingrid to ride her currently best dressage horses, Geraldine and Franziskus. Both horses are qualified for the Nürnberger Burgpokal final in Frankfurt and have been successful at small tour level throughout the 2016 season. Both are very different horses, characterwise and in looks and appearance in the arena.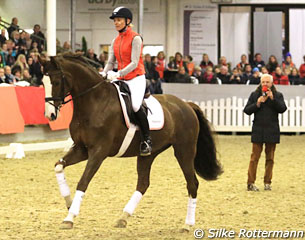 Klimke first rode the 8-year-old Rhinelander mare Geraldine, "a big square type of horse who needed time to develop."  The mare might not be this glamarous beauty like the imposing stallion Franziskus, but she is classical dressage on four legs. Beautifully muscled, calm and absolutely "losgelassen" (relaxed) Geraldine presented herself to the large crowds. No one would have ever assumed that not long time ago, the Tolstoi-granddaughter was a timid horse who needed lots of encouragement. "When Geraldine was 6 and 7 she decreased a bit from Franziskus. But this year she has become much more courageous, she now shows her full potential since she came out of her shell. For example in the trot extensions she dares much more now. And still she remains a horse who is always with two ears with me," said Ingrid. At home the mare has started the Grand Prix work. If ever somebody were to look out for a prime example of a highly trained dressage horse in a copybook frame, he found it on that day in Münster-Handorf. Geraldine showed everything the dressage rulebook requires: A soft elastic contact with the (snaffle) bit, the soft poll at the highest point, the nose always in front of the vertical, her movements fluent and through her whole, supple body. It almost appeared as nitpicking that I-judge and FN training ambassador Christoph Hess, who commented the ride, nagged on some little weak spots.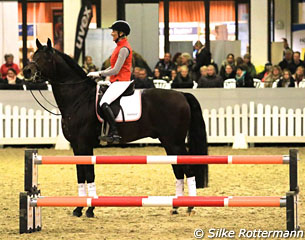 While Geraldine showed great relaxation from the beginning and never once lost it, the exuberant Westfalian breeding stallion Franziskus (by Fidertanz x Alabaster), owned by the Holkenbrink station in Münster, needed a few minutes "to get accustomed to the atmosphere." The same age like Geraldine, Franziskus is the "hello, here am I"-type of horse who seems to assume everybody is only there to watch him. Klimke reminisced on her time together which wasn't always plain sailing, "but at a certain point in time, Franziskus recognised that it is pleasant to work together with a rider." She rode the Nürnberger Burgpokal test with Christoph Hess awarding marks for each movement and him giving short comments. The end of an interesting day was a bit symbolic: Franziskus jumped what Christoph Hess called an "obedience jump" with panache and showed in another way that the classical training approach fosters the horse's personality.
Throughout the day Ingrid had put her late mentor Paul Stecken's famous words into practise: By correcting the rider, taking small and comprehensive steps in the individual horse's training, focusing on the relaxation of horse and rider alike and remaining positive and encouraging for both, she did nothing, but ensure "correct riding" and everybody could see that nothing more is needed.
Text and Photos © Silke Rottermann for Eurodressage
Related Links
Legendary Dressage Trainer Paul Stecken Passed Away 
Ingrid Klimke: Where Riding Becomes Art
2016 Dressage Immersion Tour Around Warendorf