Eurodressage Market - Products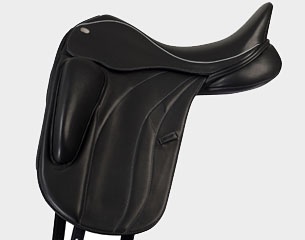 Following the unprecedented success of the Fairfax Gareth Dressage Monoflap saddle, this UK manufacturer started to receive repeated requests for a more 'feminine' version. So they asked renowned producer of young dressage horses and English equestrian style icon Rebecca Hughes to add some luxurious design touches.
Based on her husband's best-selling Gareth Monoflap – and benefitting from the same features and research - the Rebecca Monoflap is covered in luxurious calf leather sourced from one of France's most prestigious suppliers.
Discrete snakeskin print on the cantle and stirrup loop adds enough glamour to turn heads while still oozing style. Grey stitching on the flaps and welting on the seat brings a touch of class and elegance.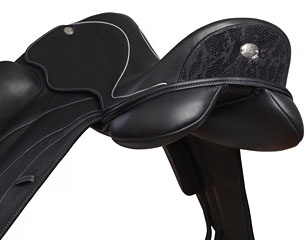 The Rebecca's open and balanced seat precisely aligns the rider over the horse's centre of balance, allowing for subtle aids and adjustments.
Rider comfort is enhanced by supportive surface-mounted thigh blocks which don't restrict the knee, plus removable and adjustable blocks on the underside of the flap. Recessed stirrup leathers enable a closer contact with the horse's sides.
Fairfax's unique panel (patent applied for) is shaped to allow the horse's shoulder girdle muscles to move freely without restriction. The panel is lined with Prolite to distribute pressure and provide cushioning and comfort for the horse.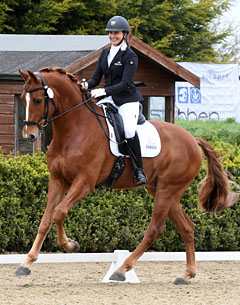 Additionally, the girthing can be tailored to the horse's requirements with a unique triple-billet system. Three girthing options (both on and off the point) can be used in combination with a self-levelling balance strap to optimise saddle stability without impeding the horse's natural movement.  
For more details www.fairfaxsaddles.com