Dutch Dressage News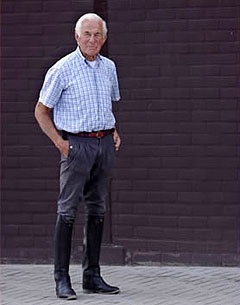 Renowned Dutch horseman John Swaab has passed away on Sunday 4 December 2016 at the age of 88. Swaab gained fame as a Grand Prix dressage rider and trainer.
Swaab is one of the very rare horse riders who competed internationally in four different disciplines.
Because of dire family circumstances, Swaab was forced to leave school and work for a living as early as the age of 12. He was as a jockey for race and harness horses.  He attended international show jumping competitions and aboard Maharascha he represented The Netherlands as at the 1972 Munich Olympic Games. That same year he was Dutch Grand Prix champion. 
Swaab trained with Piet Oothout, Bubi Günther, Willi Schultheis, George Theodorescu, Patrick Le Rolland, Hans Wikne and Hans von Blixen-Finecke. For 60 years he ran equestrian centre Den Berg in Nederhorst, The Netherlands.
Swaab was the founding father of Club Cèrcle Hippique, a training institution for riders and horses in dressage and show jumping. He taught numerous clinics there. He became well known for his seat lessons.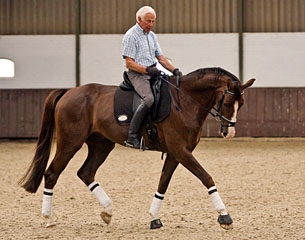 Swaab remained highly active as a rider and teacher well into his "retirement". He also had a passion for sailing and sailed around the world twice. He also raced cars in the Monte Carlo ralley.
John was last based with his partner Pieteke de Reus at Stable Rieterhof in Heel, The Netherlands. He also contributed columns to the Dutch equestrian press. 
Source: Horses.nl
Related Links
In Memoriam Hans von Blixen-Finecke 
The 1952 Olympic Games in Helsinki: Gold in the Middle of the Woods 
Pepel, A True Legend of Russian Dressage
Cramique xx, A Renaissance of French Elegance in Dressage 
The History of British Dressage: "I Thought We Would Get There...In 100 Years!"