2016 PS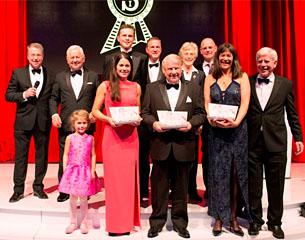 Kristina Bröring-Sprehe, Akiko Yamazaki, Sandra Maahn and Dr. Hans Georg Stihl became the recipients of the PSI Awards held on the eve before the annual PSI auction at its Charity Gala Dinner. This year the Gala Dinner and PSI Awards took place on Saturday 3 December 2016. Since 2004, it has been a tradition during this festive evening to give P.S.I Awards, made of Swarovski crystals, to special personalities who have shown special commitment or who have accomplished extraordinary performances when it comes to equestrian sport.
European, World Champion as well Olympic Team Champion Kristina Bröring-Sprehe was given the prize in the category sport. The 30-year-old dressage rider from Dinklage has been a successful championship rider in all age-groups since she had started to ride ponies. She is, as it was, fixed component and regular participant at the sports event in Hagen – in those days at Future Champions and today at Horses & Dreams. She even topped her accomplishments achieved at the Olympics in London: team gold medal and individual bronze medal went to Bröring-Sprehe and Desperados. Despite her successes, she still kept her feet on the ground, emphasized Klaus Roeser in his laudatory speech. "Although from time to time, she would have had reason enough to lift off for a moment!" Apart from that, Roeser praised her incredible capability to concentrate on essentials: "During moments of highest tension and showdowns, she is capable to forget everything around her. She is physically and mentally in a 100% competition mode." A feature that would turn her into a reliable partner in every team competition.
A horse woman "par excellence" was given the prize in the category supporter. Akiko Yamazaki is not only horse owner of horses ridden by US rider Steffen Peters, but also an extraordinary supporter of equestrian sport in the US. Yamazaki is member of the board of the "United States Equestrian Team Foundation", attending to fundraising for riders at the highest competition level. Besides, she is foundation member of the initiative "Owner's Task Force" of the American Equestrian Federation whose aim it is to encourage current and potential horse owners to bring together the best horses and the best championship and young riders. The goal: winning medals for the US at international championships. Christof Umbach praised Yamazaki in his laudatory speech also as successful dressage rider: she gave her horse Kranak she once had purchased at Hof Kasselmann at the end of his career to a paralympic dressage rider. By the way: Akiko Yamazaki´s horse Legolas, team bronze medalist at the Olympics in Rio with Steffen Peters, was the number 17 of the 27th P.S.I. Auction exactly 10 years ago.
TV presenter Sandra Maahn, presenting the shows "Sportclub Live" and Pferd TV" for the German television station "Norddeutscher Rundfunk", was honoured with the P.S.I. Award in the category media. Philipp Rüping, third in the overall scoring of the DKB-Riders Tour, emphasized in his laudatory speech how happy all riders could be to have the awardee at their side. "The pleasure rider has been accompanying horses and riders through the television world since almost ten years now, with an utmost of empathy and interest. She regularly imparts the equestrian feeling within only a couple of minutes and successfully manages to even enable those people to participate in the equestrian world who have no or only little interest in horses."
It was the first time in the history of the P.S.I. Awards that a vet was given the prize. Dr. Hans-Georg Stihl was honoured in the festively decorated ballroom in the category lifetime achievement. Dr. Stihl who has been working in almost all equestrian disciplines for leading show stables, has been fixed member of the team of Performance Sales International right from the very beginning. He already accompanied the team at the first auction in Newport/Rhode Island, in 1981. The breeder and owner of successful race horses looks back on a 48-year lasting successful co-operation with Paul Schockemöhle. Madeleine Winter-Schulze, just as her riders, have been relying on the capabilities of the meanwhile 79 years old vet for years. She said in her laudatory speech: "I often think that he is able to feel things with his hands where others have to do x-rays." The first horse he had examined at Hof Kasselmann was the legendary Deister with whom the connection between Ulli Kasselmann and Paul Schockemöhle had started and who has been adorning the catalogues of Performance Sales International until today.
Even more supporters attended the Charity Gala Ball and increased the net proceeds of the charity initiative launched in 2012 for the benefit of "Riding against Hunger". On individually designed tickets, all guests were invited to donate any desired amount. The Organizers Ulli Kasselman and Gudrun Bauer (Bauer Media Group) are happy about more money for the benefit of "Riding against Hunger". An initiative to help where it is urgently needed, especially now just before Christmas.
The P.S.I. Organizers and the whole team is always available as contact partners. For more information on the auction, POCs and service, please click on www.psi-auktion.de
Photo © Feldhaus
Related Links
Seven Awardees at the 36th Performance Sales International 
2014 PSI Awards Celebrate Outstanding Performances in Equestrian Sports
2013 PSI Awards for Dujardin, Toosbuy Kasprzak, Herres and Gego
Four P.S.I. Awards for Four Extraordinary Personalities
Four P.S.I. Awards Presented to Outstanding Personalities at 2011 PSI Gala Ball
P.S.I. Awards for Springer, Bechtolsheimer, Becker and Diekmann
Henning, Meggle, Becker, Gonzalez Receive PSI Awards at the 2009 PSI Auction
PSI Honours Lady Inchcape as Grand Dame of Dressage