KWPN Breeding News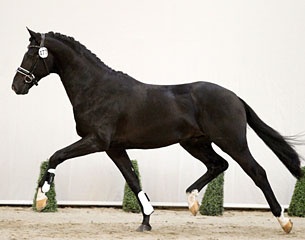 At the final pre-selection day for dressage colts for the 2017 KWPN Stallion Licensing, twenty-one colts got a pass to attend the second phase of the licensing in 's Hertogenbosch in February. After four days of pre-selection a total of 92 dressage colts have been picked for the Licensing.
The offspring of Expression, Ferdeaux and Everdale was presented on Saturday 3 December 2016 and the get of Ferdeaux (by Bordeau x Ferro) made a good impression. Five of them are selected.
"We were able to keep the same line of the first three days going," said Bert Rutten, chair of the KWPN licensing committee. "This means we barely had to make concessions on large framed models and good movement mechanism with self carriage. Today we were able to add a set of fine stallions to the collection and we are eagerly looking forward to the licensing in Den Bosch."
Rutten praised Ferdeaux' offspring. "We were able to select five interesting colts. His sons stood out positively with their canter. That was more difficult with the offspring of Expression. Still we selected two interesting sons of his,  as well as two nice ones by Fellini."
On 12 December a late pre-selection day will take place for those colts who failed to show up one of the first four days due to circumstances.
The colts selected on the fourth pre-selection day are:
Joyfull-Els (by Apache x Hotline)
Jacky Ickx Texel (by Enzo Ferrari x Jazz)
Jalando (Eby verdale x Vivaldi)
Jocularity (by Expression uxHavidoff)
Jack Sparrow (by Expression x Vivaldi)
Jetlag (by Fellini x Florencio)
Jensen SW (by Fellini x Florencio)
Jardeaux (by Ferdeaux x Jazz)
Jerichovanck (by Ferdeaux x Kostolany)
Jackpot (by Ferdeaux x Metall)
Jumeaux SV (by Ferdeaux x Jazz)
Jerveaux de Baian (by Ferdeaux x Jazz)
Jewel (by Ferdinand x Santano)
Jasper (by Firestone x Painted Black)
Jakarta L.E. (by Five Star x San Remo)
Joy Division (by Florestan x Fürst Piccolo)
Just Romance (by For Romance x Jazz)
Ferrero VDB (by For Romance x Don Crusador) 
Jack Call (by Foreign Affair x Goodwill)
Johnny Walker (by Fürstenball x Houston)
Valverde (by Vitalis uit Amicella van Ampère)
Related Links
Eighteen Colts Pass on Third Pre-Selection Day for 2017 KWPN Stallion Licensing
Twenty-Two Colts Picked on Second Pre-Selection Day for 2017 KWPN Stallion Licensing
Twenty-Three Colts Picked on First Pre-Selection Day for 2017 KWPN Stallion Licensing