American Dressage News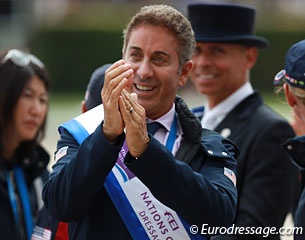 The United States Equestrian Federation (USEF) has renewed its contract with Robert Dover as U.S. Dressage Technical Advisor. Dover will continue to act as Technical Advisor in addition to serving as Chef d'Equipe at agreed upon U.S. Dressage Team competitions. He will also continue to play a significant role in fundraising for U.S. Dressage programs.
The US Dressage Team was in a slump losing a place on the team medal podium at major intercontinental championships after their last bronze at the 2006 World Equestrian Games. Under the supervision of Anne Gribbons as technical advisor, the USEF restructured its dressage high performance program and Robert Dover gave the team the necessary boost to return on the podium, with bronze at the 2016 Olympic Games in Rio.
Dover's contract as Technical Advisor was up for renewal in November and some re-negotiating took place at the USEF headquarters in Kentucky.
"The Technical Advisor/Chef d'Equipe position that Robert has held over the past 3.5 years has been very important. Following the Olympic Games, we have undergone a thorough review of our high performance programs," USEF Dressage Director Hallye Griffin told Eurodressage in November.
That same month Dover was playing hard to get and told Eurodressage he was "undetermined" about continuing on the job. He said, "we'll see where it goes," at the time. Today, however, the USEF confirmed that Robert has been rehired.
"I am thrilled and honored to remain in the position of Dressage Technical Advisor for the USEF," said Dover. "I look forward to continuing to work with staff, volunteers and athletes to produce training and competitive programs for sustained excellence for the U.S. Equestrian Dressage Team."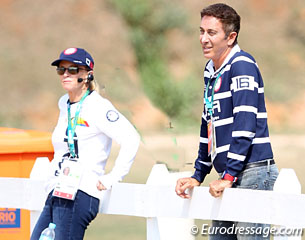 Dover assumed the U.S. Dressage Chef d' Equipe/Technical Advisor role in 2013. Under his leadership, the U.S. Dressage Team returned to the podium at the 2016 Rio Olympic Games, winning a Team Bronze medal. A six-time U.S. Olympian and four-time Olympic Bronze medalist, Dover has spearheaded the development of an effective pipeline program focused on maintaining U.S. Dressage's standard of excellence across all levels.
Alongside his Technical Advisor role, Robert will continue to lead the fundraising efforts with which he has been so successful over the last three years. The funds he has helped raise have contributed significantly to the growth and success of the programs.
"Robert has done so many positive things for U.S. Dressage. From returning our team to the Olympic podium to growing our development program, there is no one better to lead U.S. dressage," said USEF President Chrystine Tauber. "As an athlete, chef d'equipe, or technical advisor, it has been wonderful to see the amazing impact he has had on this sport and our athletes. I know Robert will work hard to build upon this success."
Dover's Technical Advisor contract has been renewed for a two year period and will be up for review after the 2018 World Equestrian Games in Tryon, U.S.A.
Photos © Astrid Appels
Related Links
U.S. Team Trainer Contract Up for Renewal in November 2016
Robert Dover: Why Equestrian Should Be Kept in the Olympic Program