2016 CDI-W Zakrzow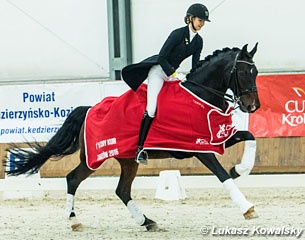 Victorious in every class entered at both junior and young riders level at the 2016 CDI-W Zakrzow on 4 - 6 November 2016, Hungarian Berill Szoke Toth is delighted with the winning performances of her horses Qatar and Donnington Park. The long-time Hungarian team rider has now concluded her 2016 show season with a clean sweep.
"I'm so happy," said Berill. "I managed to claim first place in both the junior and young rider categories, and all in all I was able to finish a successful competition season for 2016."
Aboard her junior horse, 7-year old Qatar (by Quaterback x Stedinger), which she has only been riding for one year and a half, Szoke Toth scored 70.541% and 70.482% in the team and individual test. 
"My coach Robert Ács trains him and he is still young but already knows far more than his age requires. I hope that we will have many successful years together in the future," said Berill.
Taking the hat trick in the Young Riders, Szoke Toth and 12-year old Donnington Park ( Damon Hill x Mister A) posted scores of 69.435% in the team test and 69.386% in the individual. She rounded off her weekend with a tidy victory in the Kur on 72.875%.
"Donnington Park and I began our Young Rider journey this year, and this has been quite a big challenge for me because I am just 17 years old," said Berill. "Donna Romma (by Don Frederico x Warkant), my other more well known horse, is now 13 and in 2016 I compete her in the European Junior Riders Championship and  became a Hungarian champion in category M. Donna is a real mare with a huge quality and  this season she was involved in a lot of competition. That is why we chose to give her a break and take my other two horses to Zakrzów."
Szoke Toth expressed a particularly keen delight in competing in the Polish Zakrzow.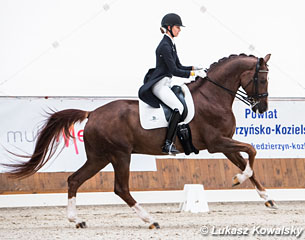 "This year is the second time I have competed in Zakrzów, and I was looking forward to the competition because like last year it was at international level.  I'll always come here willingly. I think, I believe that this competition is one of the most competitive in Eastern Europe and although this year the weather wasn't favourable for us, this didn't affect the atmosphere because the barn, the heating of the stable, and the arena were all under one roof. The atmosphere in the arena was fabulous. I very  much enjoyed myself and I hope I will have an opportunity to compete here again next year."
With the help of her coach Robert Ács, Berill felt well prepared for the competition.
"Donnington Park is a well routined horse with countless competitions already behind us and here he was able to show his best form. Qatar is still young and hasn't got as much experience. He needs more time and I felt that in the arena he was a little hot," she explained.
Based at the Dressurzentrum in Máriakálnok, Hungary, Berill has spent almost 18 months trainin with seven-time Hungarian Champion Robert Ács, who made the move from Germany back to his home country Hungary just one year ago.
"Now I will have a short rest period in December, before starting the 2017 show season in January," said Berill. "I want to take full advantage of the winter preparation because next year should be full of success. I hope to remain a part of the Hungarian National team and also to participate in the European championships, as a junior or a young rider, but this is the question for the future."
by Sarah Warne - Photos © Lukasz Kowalski
Related Links
Scores: 2016 CDI-W Zakrzow 
Scores: 2016 European Children Junior Young Riders Championships 
Nikolett Szalai Wins 2016 Hungarian Grand Prix Championships