2016 Piaff Forderpreis Finals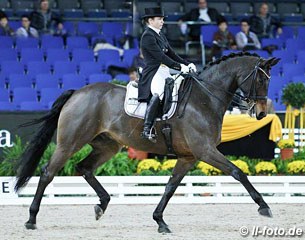 Franziska Stieglmaier and Lukas became the surprise winners of the 2016 Piaff Forderpreis Finals, the unofficial German Championships for Under 25 riders held annually at the CDI Stuttgart. Stieglmaier beat all German team riders that won gold at the 2016 European Under 25 Championships in Hagen this summer and who were also showing on the Piaff Forderpreis circuit.
One day after turning 24 years old Stieglmaier and her 11-year old Bavarian bred Lukas (by Lagiator x Wenckstern) won the Finals. They were third in the warm up round with 68.744 %, but topped the Grand Prix Finals with 69.760%, outclassing team gold medal winning European U25 Championship riders Juliette Piotrowski and Florine Kienbaum. 
There wasn't much of birthday celebration going on though. "I have to be early in the stable every morning and I'm often tired at night, also on my birthday," said Stieglmaier, who is a professional rider at her father Walter's yard in Roth, Germany. "If someone were to tell me beforehand that I would win, I would not believe them. The third place in the warm up round was already very nice. In the Finals we were more focused and I tried to show off Lukas' fortés even more."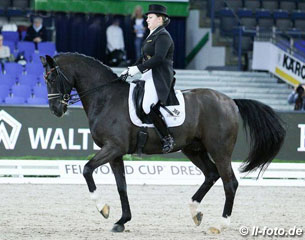 German team trainer Monica Thodorescu was in Stuttgart and saw Stieglmaier win. "Franziska is the deserved winner," said Theodorescu. "She made no technical mistakes. That was a really good Grand Prix test. Hat's off."
Franziska has trained Lukas from young horse level to Grand Prix herself. "We bought Lukas as a foal in the neighbouring village. Later we worked our way up through the Bavarian Championships and Bundeschampionships." Stieglmaier has been training on a regular basis with Theodorescu. "She has really helped me with Lukas," said Franziska. "She often said: just ride well Franzi, the rest will come. I remember that sentence all the time."
The Piaff Forderpreis is a show circuit for German Under 25 riders. Via a training and selection day, combinations have to qualify to be eligible to compete on the circuit that year. The finals are held annually in Stuttgart. 
Photos © LL-foto
Related Links
Sanneke Rothenberger Wins 2015 Piaff Forderpreis Finals for German Under 25 Riders 
Schurmann Wins 2014 Piaff Forderpreis Finals for German Under 25 Riders
Nadine Husenbeth Wins 2013 Piaff Forderpreis Finals at CDI-W Stuttgart
Stella Charlott Roth Wins 2012 Piaff Forderpreis Finals
Sprehe Defeats Favourite Engelen in 2009 Piaff Forderpreis Finals
Matthias Alexander Rath Wins 2006 Piaff Forderpreis
Ellen Schulten-Baumer Wins First Ever Piaff Forderpreis at 2001 CDI Stuttgart