Westfalian Breeding News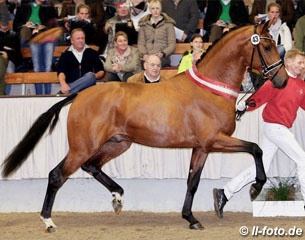 The 2016 Westfalian Stallion Licensing became a Dutch party with the top three ranked stallions all being sired by KWPN bred and registered stallions. Valverde (by Vitalis x Ampere) became the undisputed champion of the Licensing in Munster-Handorf on 23 November 2016. Zoom (by Zack) and a Bretton Woods offspring completed the top three in the premium ring.
The Westfalian breed society has been carrying out a very open policy towards other breeds the past few years and although there is little preservation of the original lines and safekeeping of the identity of the breed going on, the commercial side of this new strategy is certainly paying off.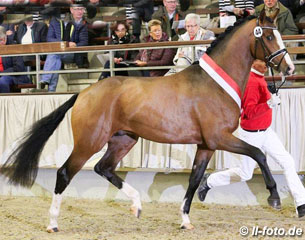 A total of 47 colts were entered for licensing, two dropped out, and 28 received a positive verdict from the licensing committee. Eight dressage stallions were named premium and the top two truly excelled. 
Valverde (by Vitalis x Ampere x First Final) is bred by Eugene Reesink and owned by Reesink in partnership with Andreas Helgstrand. The bright bay colt showed a superior trot with a very active, engaged hind leg, an uphill tendency and much suppleness. This colt was not for sale. 
The reserve champion is the bay Zoom (by Zack out of SPS Diva Dannebrog (by Don Schufro x Brentano II x Arogno)), bred by Dorthe Jeppsen and owned by Blue Hors Stud. The very sympathetic bay stallion has three very good basic gaits and is a sporty athlete despite being a bit heavier set. He will stand at the Warendorf state stud.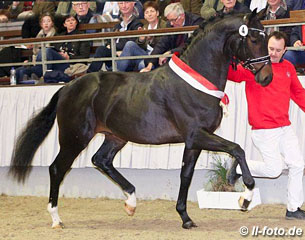 The third ranked stallion was Frank Dahlhoff's Birmingham (by Bretton Woods x Furst Piccolo x Sandro Hit x Contender). This dam line already produced licensed colts Quotenkonig, Dahlhoff, Fiderhit, Feedback and Dow Jones.  This stallion sold at auction for 260,000 euro to the Celle State Stud.
The other premium dressage stallions were the German Sport Horse bred Don Juan de Hus x De Niro (which sold at auction for 100,000 euro), the Oldenburg registered Furst Romanov (by First Choice x Romanov out of Don Schufro's damline - which sold for 80,000 euro), the Westfaliian bred Velvet (by Van Vivaldi x Fidermark), the Westfalian bred Emilio (by Escolar x Lauries Crusador xx) which Blue Hors stud bought privately at the licensing, and the bland Ferentino (by Furst Romancier x Rock Forever).
At the auction following the licensing 31 licensed stallions were sold and they achieved an average price of 87,645 euro, mainly thanks to the fact that the price highlight was the show jumping licensing champion (by Kannan x Verdi) which Klosterhof Medingen and Gestut Westfalenhof paid a whopping 620,000 euro for!  The dark bay Zarathustra MT (y Zonik x Florestan) sold for 187,000 euro to Sissy Max-Theurer, and the Jazz x Flemmingh fetched a price of 110,000 euro. The non-licensed stallions sold for an average price of 22,209 euro.
Photos © LL-foto
Related Links
Fifty-One Dressage Colts Selected for 2016 Westfalian Stallion Licensing 
D'Egalite, Champion of the 2015 Westfalian Stallion Licensing 
Borsalino, Champion of the 2014 Westfalian Stallion Licensing
Rock For Me, Champion of the 2013 Westfalian Stallion Licensing
Like A Diamond, Champion of the 2012 Westfalian Stallion Licensing
Dubrovnik, Champion of the 2011 Westfalian Stallion Licensing
A La Carte, Champion of the 2010 Westfalian Stallion Licensing
Silbermond, Champion of the 2009 Westfalian Stallion Licensing
Flanagan, Champion of the 2008 Westfalian Stallion Licensing
Coronas, Champion of the 2007 Westfalian Stallion Licensing
Estobar NRW, 2006 Westfalian Licensing Champion
Cornado 2005 Westfalian Licensing Champion
Fidertanz, 2004 Westfalian Licensing Champion
Dancing Dynamite, 2003 Westfalian Licensing Champion
Rosencharmeur, the 2002 Westfalian Stallion Licensing Champion
Don Bedo, 1998 Westfalian Stallion Licensing Champion