Spanish Dressage News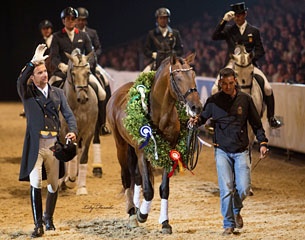 Spanish dressage team horse and Olympic mount Grandioso has been officially retired from competition sport at the 2016 SICAB fair in Seville, Spain, on Saturday 19 November 2016.
Under Jose Daniel Martin Dockx, the 17-year old PRE licensed stallion Grandioso was one of Spain's anchor team horses, representing Spain at the 2012 and 2016 Olympics, 2013 and 2015 European Championships and 2014 World Equestrian Games.
Grandioso was discovered as a youngster in Spain by American Kimberly van Kampen-Boyer of Hampton Green Farm. He was initially meant to be competed by Courtney King-Dye but after her riding accident, the ride on the horse was allocated in 2011 to Spanish Jose Daniel Martin Dockx. 
At SICAB the duo said farewell to the crowds. Right before the retirement ceremony, his rider posted an emotional statement on Facebook:
"Tonight will be very emotional because I have to say goodbye to my friend," said Martin Dockx. "In all stages everything has a beginning and an end and today it is the curtain call.  Now you get to enjoy your retirement quietly in Wellington, where they will take care of you like what you are, a king! I just wanted to thank you for everything you've done for me, you have taught me to be such a better horseman, you've taught me a world I never thought I could possibly know. Today is your day and hope you enjoy it very much friend!. Today we are going for the last dance, I will try to do as always but if it's not so don't worry, you don't have to prove nothing else, no one is going to judge you, it's just to thank you, not just what you've done for me, but for the country and the breed."
Photo © Lily Forado
Related Links
Grandioso's Final Competition Ride at the 2016 Olympic Games 
Grandioso Sidelined Due to Injury, Olympic Start Uncertain
Martin Dockx and Grandioso Appointed Spanish Olympic Team Reserves
Martin Dockx and Grandioso to Step in for Delgado, Faberge Reserve
American Owned PRE Stallion Grandioso To Compete for Spain