Opinions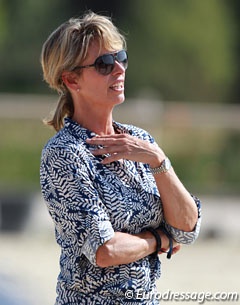 In her regular column in the Dutch mainstream newspeper De Telegraaf on 23 November 2016, triple Olympic champion Anky van Grunsven disclosed her views on the future of dressage sport and stressed the importance of keeping dressage modern and attractive to the public. She believes dressage needs to keep up with time and the fast pace of modern day life. To us this means nourishing the short attention span of an adrenaline seeking crowd.
"Please Progress with Time"
"The Olympic cycle has begun again and we (the Dutch) have to deal with a very disappointing Games. We have to be totally alert, because there are a few international developments that raise concern. The International Equestrian Federation (FEI) is currently meeting in Tokyo to pull together the Olympic format for equestrian sport. As quiet as it goes with jumping and event, as messy it is again with dressage.
In all her wisdom the dressage committee has proposed to re-introduce the Pas de Deux and Quadrille. And this for the team competition. In this way you will have two to four horses in the arena at the same time. Those who understand horse sport, know that it means turning back the clock 100 years. All those dressage riders, who have maximally brought the sport forward, will have to go back to riding symmetrical movements like at the Spanish Riding School? I think it's a beautiful show, notwithstanding, but it's very different from top sport.
I wonder whether the person who proposed this has any idea what this means for breeding. Will we only select on colour in the future, because we will have to train four equally looking horses? How will this translate for other equestrian disciplines? Will you go into the arena with four jumpers or do a cross country with four eventers at the same time? With gymnastics, archery and figure skating all results are added. I don't see any restriction why dressage has to move away from that.
No, solutions have to be found closer by. They are obvious: line up all top six ranked national teams at the Olympics and add the best 10 individual riders to that. That will give the people an exciting sport and they don't have to wade through the rides of sixty (!) combinations. Even the biggest die hard dressage fan doesn't survive that. Furthermore make it more clearly by dropping the high and low score of the seven judges. It will lead to sharper judging.  Also renew the first part of the competition, the Grand Prix. We have been watching the same test for the past 10 years. Scratch unnecessary movements, such as the halt and salute at the beginning of the test. Tempo is the credo of our time. In dressage we can really improve on that."
by Anky van Grunsven - source: De Telegraaf
Related Links
Changes for New 2020 Olympic Format Accepted at 2016 FEI General Assembly 
Olympic Format Debate Serves as Reality Check for Equestrian Sport
2016 Global Dressage Forum - Day One: Surprise FEI Revelations, Media and Sponsorship