2016 Brazilian Dressage Championships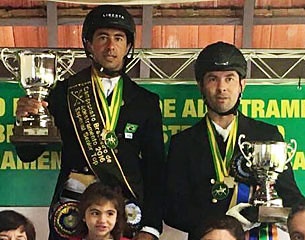 Small tour rider Pia Aragao and big tour rider Leandro Aparecido da Silva became the FEI level winners of the 2016 Brazilian Dressage Championships held at the Sociedade Hipica Paulista in Sao Paulo, Brazil, on 11 - 13 November 2016. The attendance at the Nationals was very small with only two and none of the Olympic team riders contesting the big tour.
With only two starters for the Grand Prix Championships it was more an amicable battle for highest honour than anything else. The 40-year old Leandro Aparecido da Silva steered Ricardo and Patricia Villela Marino's 14-year old Oldenburg Di Caprio (by De Niro x Canaster I) to victory and the national title with a 66.600% score in the Grand Prix and 67.875% in the Kur to Music. He averaged 67.238%. The silver medal went to 35-year old Mauro Pereira da Silva Junior aboard Anna Maria Mantagazza's Banzai AMM, a 14-year old bay Brazilian sport horse bred stallion by Toy Boy x Ferro. The pair scored 64.367% and 62.775% to average 63.571%.
Eight riders in total entered for the small tour championship, but only four pair actually completed the three days of competition for the final overall ranking. Pia Aragao and the 11-year old Lusitano Baldor Interagro (by Ofensor) were the undisputed champions, winning all three rounds with 67.807% in the Prix St Georges, 68.728% in the Intermediaire I and 69.900% in the Kur to Music. They averaged 68.812% for the title. Sergio Castany de Fiori and the 15-year old Brazilian sport horse bred Akira AMM (by Voltaire x Quite de Baussy) were good for silver with an average of 66.946% after scoring 66.140%, 66.798% and 67.900%. Sophia Baptista de Oliveira and the 12-year old Westfalian mare Pippilotta (by Pilot x Wagner) got the bronze with an average of 65.105%. They earned 65.088% in the Prix St Georges, 65.702% in the Inter I and 64.525% in the Inter I kur.
The Championships also staged a Nationals at young horse level, but the attendance was very poor.With only one horse in the 4 and 5 year old division and two in the 6-year old class. Marcio Alexandre won the 4-year old class aboard Hillary (by ) with 8.14 and 8.90 points. Leandro Aparecido da Silva and Champion Hit Mystic Rose won the 5-year olds with 7.04 and 7.68 points. In the 6-year old division Pia Aragao topped the board with Fellini Interagro (by ) scoring 7.24 and 7.76 points, ahead of Sara Godoy on Friend do Vouga (by ) with 6.56 and 7.08 points.
Related Links
Brazilian Team Selected for 2016 Olympic Games
Tavares de Almeida and Waddell Win 2015 Brazilian Dressage Championships
Pass, Trielli, Clementino Win 2014 Brazilian Dressage Championships