2016 U.S. Dressage Finals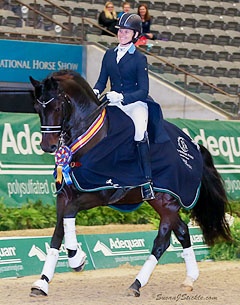 Rachel Hicks and Endel Ots became the winners of the Prix St Georges Championships, the last FEI level Championships ridden on the final day of competition at the 2016 U.S. Dressage Finals at the Kentucky Horse Park in Lexington, U.S.A on Sunday 13 November 2016. The Prix St Georges surprisingly concluded the FEI level contest, the USDF going against tradition by staging the Inter I classes earlier on the weekend.
A blown transformer just after 2pm ET had utility crews scrambling and left the Alltech Arena shrouded with only emergency lighting to illuminate the arena floor. But as the saying goes, "the show must go on" and officials, staff, volunteers and competitors all came together to make sure the last class of the day went off without a hitch.
Hicks Wins PSG Adult Amateur Championship
Last year's Prix St. Georges Adult Amateur Champion Rachael Hicks of nearby Prospect, Ky. (Region 2) successfully defended her title Sunday morning to be awarded the Janine Westmoreland Malone Perpetual Trophy (presented by USDF), but this time it was aboard her nine-year-old Rheinlander stallion Don Cartier (Don Schufro x Carmina by Cartier) with a score of 68.377%.
"The good and the bad of it is that we weren't in the indoor where he sees spooky monsters, but it was freezing out there at 8am! I couldn't even feel my fingers and couldn't adjust my reins because they felt frozen in one position," she laughed. "I don't know that it was our best ride, but it was very steady and good enough to get the job done. He needs as much event exposure like this as possible to keep progressing, and we now hope to try the CDI Adult Amateur division in Florida."
Hicks just edged out California's Elma Garcia from Thermal (Region 7) with 68.246%. Her 14-year-old Hanoverian mare Wenesa (by Westemhagen x Dancing Girl by Davignon I) hitched a plane ride to Kentucky with Thoroughbred racehorses returning from the recent Breeders' Cup at Santa Anita.
"I think we held back in our Intermediate I ride earlier in the week, so we really went for it today. My changes were clean and big and bold, and I'm just delighted," said Garcia. "I told my coach right from the beginning of the year that I wanted to qualify for the Finals and have this experience. This is a 'bucket list' event and I don't know how you can't come if given the chance – I'm just so happy we came and proud of my mare."
Ots Wins PSG Open Championship
Endel Ots of Wellington, Fla. (Region 3) has competed around the world, and he turned his first trip to the US Dressage Finals into a winning one aboard the seven-year-old Oldenburg gelding Samhitas (by Sir Donnerhall x Heidebluete by Abanos) owned by Ots and Canadian Grand Prix rider Gary Van der Ploeg. The pair earned 71.009% in the Prix St. Georges Open Championship to be awarded the Miki Christophersen Perpetual Trophy (presented by USDF Region 4).
"He's only seven so this is his first year at the level, but he was very solid," said Ots. "We've competed together in Europe for the 2015 Young Horse World Championships as well as Devon this year, so he's used to competing in venues like this with a lot of atmosphere. I'd heard and read about this show and wanted to come, and it's been fantastic. If I had more horses ready I'd bring them too. I couldn't recommend the show any more."
Having already earned the Intermediate I Open title earlier in the week, Mike Suchanek of Cambridge, Minn. (Region 4) added Reserve Champion Prix St. Georges honors to his resume with Hero L (nine-year-old Hanoverian gelding [His Highness x Waterlily L by Wolkenstein II] owned and bred in the U.S. by Leatherdale Farms) with a score of 70.132%.
Adding to the excitement of the final day, the top-scoring riders in various divisions from each of the USDF Regional Championships competed on regional teams in the second-annual US Dressage Finals Regions Cup, vying with competitors from across the country for awards and bragging rights for their respective USDF Region in which they qualified to attend the Finals. Coming out on top after four days of championship competition was the Region 3 team comprised of Kristy Truebenbach Lund and Living Lucky at Training Level Adult Amateur, Amy Swerdlin with Quileute CCW at Second Level Adult Amateur, and Endel Ots with Samhitas in the Open Prix St. Georges. Their winning average score of 70.498% was good enough to successfully defend their 2015 Regions Cup title ahead of Region 7 with 69.172% and Region 9 with 69.067%.
Photo © Sue Stickle
Related Links
Barrows, Gaines, Wadsworth, Hickok Win Champion Sashes at 2016 U.S. Dressage Finals
Suchanek, Hicks, Thornlow, Hickok Earn FEI Level Titles at the 2016 U.S. Dressage Finals
Leach and Mason Earn the First Two Titles at 2016 U.S. Dressage Finals
US Dressage Finals Returning to the Kentucky Horse Park in 2016