Training Your Horse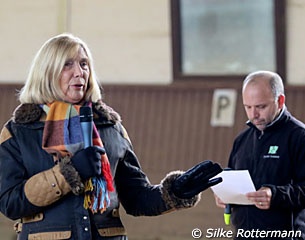 The 2016 seminar with retired I-judge Angelika Frömming and internationally renowned equine osteopath and physiotherapist Stefan Stammer at Stable Franz in Haiger, Germany, became a three-day get-together of biomechanics and classical dressage training. Taking place on 21 - 23 October 2016 the Pferdewirtschaftsmeister Michael Rohrmann brought together Stammer and Frömming amongst other specialists to focus on an effective merger of biomechanics and classical dressage training in theory and practise.
Whereas Angelika Frömming lectured on the evolution of dressage training throughout the centuries on Friday evening, Stefan Stammer's focus on Saturday morning was on how biomechanics can be applied in daily riding. Both speakers acted and worked together in the afternoon at Stable Franz on Saturday as well as on Sunday. Horse and riders differed in age and training level, from ambitious pleasure riders to a talented 13-year old junior and professionals. They all demonstrated one thing over the weekend: That the classical principles work beautifully for all riders and horses. Correctly applied they are the best precondition to allow a horse to move through its whole body and therefore in balance.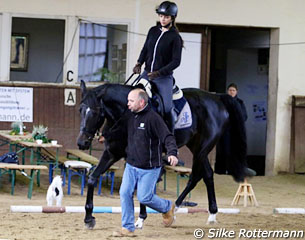 The conscience what happens with the horse in specific movements and how riders can support it, requires the knowledge and awareness of the horse's anatomy.
Stefan Stammer demonstrated certain effects on the horse's musculature, fascia and posture first on a standing horse, then he allowed the riders to feel the difference in the saddle; for instnace whether a horse is lifting the back or not.
While the awareness of the horse's biomechanics and its importance to respect it in daily training is absolutely nothing new, it does not happen so often that an experienced and popular osteoapath like Stammer and a highly respected judge and trainer like Angelika Frömming teach together in the same lessons.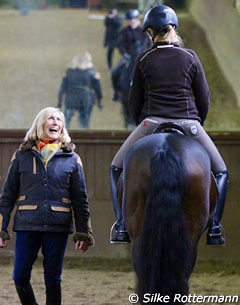 What appeared like a cliffhanger experiment worked very well with each of them watching the horse from slightly different angles and so complementing each other very effectively. The focus of these two pairs of eyes was always the balance of the horse which is dependant on that of the rider. Rather unspectacular movements like shoulder-in, transitions or riding double-circles (figure eight) were ridden to improve straightness, suppleness and throughness and not just executed as a necessary part of certain dressage tests.
Apart from Stefan Stammer, Angelika Frömming and organizer Michael Rohrmann the seminar also featured Thies Kaspareit, the former eventing Olympic champion and head of training at the German federation. Also attending were Xenophon vice-chairman Friedhelm Petry and Dr. Juliette Mallison, the former chef d'equipe and vet of the German endurance team. Between them and the numerous auditors and active participants, who came from Finland and France, interesting discussions arose which went far beyond the actual topic of the seminar. Due to the seminar's success a repetition is planned for 2017.
Text and Photos © Silke Rottermann
Related Links
Frömming & Stammer Seminar 21 - 23 October 2016: Biomechanics Meets Classsical Dressage in Daily Training
Fromming and Hinnemann: The Training Scale in Theory and Practise at Pineland Farms
Angelika Fromming: Open Scoring and Expert Commentary to Popularize Dressage
Angelika Fromming: Half a Century of Dressage