2016 Portuguese Dressage Championships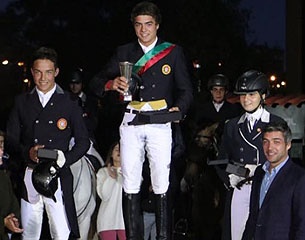 Pony rider Lisa Caroline Bartz, junior rider Martim Meneres, young rider Miguel Castel, small tour rider Maria Caetano, medium tour rider Vasco Godinho, Under 25 rider Ines Cancio, and big tour rider Gonçalo Carvalho became the grand champions and title getters at the 2016 Portuguese Dressage Championships held in Portugal on 21  - 23 October 2016.
Three young children competed in the FEI Pony level division and Lisa-Caroline Bartz bested the field on the 10-year old German Riding Pony Hemingway B (by Der Harlekin B). Bartz scored top marks of 73.060% in the team test, 73.380% in the indivifual and 73.280% in the kur to win gold with 219.720 points. Rita Carrasqueira and the 17-year old Dutch Welsh pony Bjirmen's Jurjen (by Leun's Velds Lord) got silver with 70.240%, 68.120% and 69.280% (207.640 points), while Lucas Lourenço Lopes and the 11-year old pony sized Lusitano Aquiles do Ilheu (by Quiebro) got bronze with 57.800%, 54.400% and 61.480% (173.680 points).
A group of ten pairs gathered for the junior riders' Nationals and Martim Meneres ended up topping the board with the 7-year old Lusitano Equador (by Peralta). He won the team test with 71.100 and the individual test with 70.740% and placed second in the Kur with 73.260% to earn gold with a total of 215.100 points. Yoann Pinto and the 11-year old Oldenburg bred Sergio Rossi (by Sir Donnerhall) was second with consistent scores of 69.460%, 68.480% and 73.640% to get silver with 211.580 points. Catarina Lucas Lopes and her 9-year old Lusitano Capuccino d'Atela (by Tixaquir) settled for bronze with 68.440%, 67.800% and 68.960% (205.200 points).
Only four young riders came to Nationals and Miguel Castelo earned the goal aboard his 17-year old Hanoverian Weserprinz (by Weserstar S). They scored 67.780% in the team test, 69.560% in the individual and 72.340% in the kur to music for a golden total of 209.680 points. Manuel Vinagre and the 11-year old Lusitano Almansor (by Riopele) were on a golden course after winning the first two rounds with 69.040% and 70.00%, but after placing third in the Kur with 70.290% they dropped to silver with 209.330 points. Gonçalo Daibinho and the 15-year old Lusitano Uige (by Zamorino) earned bronze with 65.280%, 68.820% and 71.480% (total 205.580 points).
Seven combinations contested the small tour championship, which Maria Moura Caetano won the on the 10-year old Lusitano Biso das Lezirias (by Solar Pinhais). The pair won the Prix St Georges with 70.580%, placed second in the Inter I with 70.580% and dominated the Kur with 74.810% to earn the small tour title with a total of 215.970 points. The silver medal went to Francisco Pimental Silva on the 7-year old Lusitano Esporim (by Pagao) with 69.920%, 70.760% and 71.810% for a total of 212.490 points. Patricia Palmeiro and the 10-year old Lusitano Bogota (by Napolitano) landed bronze with 67.120%, 67.560% and 70.160% (204.840 points).
At Medium Tour level only three pairs gathered for the medal honour and Vasco Mira Godinho took the highest step of the podium aboard Christine Jacoberger's 10-year old grey Lusitano Bariloche (by Rouxinol). The pair convincingly won all three rounds with 69,560%, 72,060% and 71,160 to get gold with a total of 212,780 points. Ricardo Almeida got silver aboard the 10-year old show jumping bred Hanoverian Fiecho do Cisne (by Stalypso) with a total of 201,400 points, while Jose Carvalho Neto and the 9-year old Portuguese sport horse bred Carolinger IGE (by Karolinger) landed bronze with 198.340 points.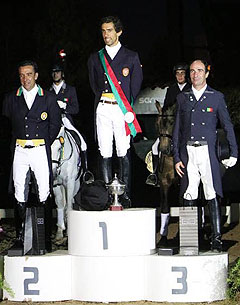 Only one combination is contesting the Under 25 division so it automatically became the national champion at that young riders Grand Prix level: Ines Cancio aboard the 13-year old Lusitano Xeque Mate (by Quadradro). The pair scored 67.860% in the Inter II, 68.860% in the short Grand Prix and 70.510% in the Kur to Music.
At Grand Prix level a tough battle was fought between Gonçalo Carvalho and Daniel Pinto with Carvalho renewing his national title for the second, consecutive year. Carvalho and the 10-year old Lusitano mare Batuta (by Quixote) won two of three rounds with 74.180%, 75.640% and 77.810% to finish with gold at 227.730 points, but the pair had Pinto on the 10-year old Lusitano cross Santurion de Massa (by Munchhausen) closely on their heels at all times. Pinto placed second twice with 73.880% in the Grand Prix and 74.600% in the Special, but won the kur with 78.620% to finish second overall with 227.100 points.  The bronze medal went to Filipe Canelas aboard the 17-year old Hanoverian Der Clou (by De Niro) with 70.480%, 70.940% and 74.560% to score 205.980 points in total.
Results - 2016 Portuguese Dressage Championships
Pony Riders
1. Lisa-Caroline Bartz - Hemingway B -73,060 - 73,380 -73,280 --- 219,720
2. Rita Carrasqueira - Bjirmen'S Jurjen - 70,240 - 68,120 - 69,280 --- 207,640
3. Lucas Lourenço Lopes - Aquiles Do Ilheu - 57,800 - 54,400 - 61,480 --- 173,680
Junior Riders
1. Martim Meneres - Equador - 71,100 - 70,740 - 73,260 --- 215,100
2. Yoann Pinto - Sergio Rossi - 69,460 - 68,480 - 73,640 --- 211,580
3. Catarina Lucas Lopes -Capuccino d'AtelaP - 68,440 - 67,800 - 68,960 --- 205,200
4. Joao Paulo Nogueira - Zelo do Ilheu - 67,560 - 66,540 - 67,3102 --- 01,410
5. Mateus Abecassis - Cã - 65,480 - 65,420 - 69,020 --- 199,920
6. Luis Valença Cardoso - Waltimore - 66,020 - 65,960 - 67,350 --- 199,330
7. Maria Carmo Marcelino - Tim - 66,740 - 65,280 - 65,670 --- 197,690
8. Manuel Maria Ferreira - Traviata - 64,760 - 65,020 - 65,610 --- 195,390
9. João Maria Diniz - Vinagre - 65,940 - 63,160 - 66,110 --- 195,210
10. João Matos Pires - Rock  - 64,560 - 63,000 - 63,310 --- 190,870
Catarina Oliveira Sousa - Visto - DNS
Young Riders
1. Miguel Castelo - Weserprinz - 67,780 - 69,560 - 72,340 --- 209,680
2. Manuel Vinagre - Almansor - 69,040 - 70,000 - 70,290 --- 209,330
3. Gonçalo Diabinho - Uige - 65,280 - 68,820 - 71,480 --- 205,580
4. Alexandra Gouveia - Artista -65,620 - 67,620 - 68,160 --- 201,400
Small Tour
1. Maria Moura Caetano - Biso das Lezirias - 70,580 - 70,580 - 74,810 --- 215,970
2. Francisco Pimentel Silva - Esporim - 69,920 - 70,760 - 71,810 --- 212,490
3. Patrícia Palmeiro - Bogota - 67,120 - 67,560 - 70,160 --- 204,840
4. Sara Tome Cabral - Esguia - 63,280 - 65,840 - 69,200 --- 198,320
5. Nadja Maria Bieler - Vitorino - 64,520 - 64,220 - 64,870 --- 193,610
6. André Santos - Xa - 63,380 - 64,080 - 65,410 --- 192,870
7. Sarah Alisson Santos - Xiribi Do Olival - 63,680 - 61,920 - 64,790 --- 190,390
Medium Tour
1. Vasco Mira Godinho - 69,560 - 72,060 - 71,160 --- 212,780
2. Ricardo Almeida - Fiecha do Cisne - 66,160 - 67,400 - 67,840 --- 201,400
3. Jose Carvalho Neto - Carolinger IGE - 65,440 - 66,360 - 66,540 --- 198,340
Under 25
1. Ines Valença Cancio - Xeque-Mate - 67,860 - 68,860 - 70,510 --- 207,230
Big Tour
1. Gonçalo Carvalho - Batuta - 74,180 - 75,740 - 77,810 --- 227,730
2. Daniel Pinto - Santurion de Massa - 73,880 - 74,600 - 78,620 --- 227,100
3. Filipe Canelas - Der Clou - 70,480 - 70,940 - 74,560 --- 215,980
4. Maria Moura Caetano - Coroado - 70,100 - 70,220 - 74,310 --- 214,630
5. Miguel Ralao - Xenofonte d' Atela - 67,040 - 67,940 - 72,160 --- 207,140
6. Ricardo Wallenstein - Bem-Me-Quer - 68,180 - 67,520 - 69,660 --- 205,360
7. Ricardo Ramalho - Despinio - 67,700 - 67,220 - 69,650 --- 204,5707
8. Raquel Falcao - Real - 67,100 - 66,540 - 68,970 --- 202,610
9. Duarte Nogueira - Beirao - 66,120 - DNS - 68,880 --- 135,00
Photos © Private - Rui Pedro Godinho
Related Links
Goncalo Carvalho Wins 2015 Portuguese Grand Prix Championships
Maria Caetano Wins 2014 Portuguese Dressage Championships
Castelo and Ralao Duarte Win 2014 Portuguese Junior and Young Riders Championships
Maria Caetano Crowned 2013 Portuguese Grand Prix Champion
Goncalo Carvalho Wins 2012 Portuguese Dressage Championships
Maria Caetano, 2008 Portuguese Grand Prix Dressage Champion
Miguel Ralão Duarte, 2007 Portuguese Dressage Champion