Auction News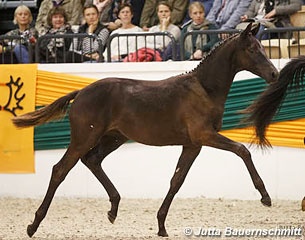 The orphan colt Konstantin became the top selling foal at the elite foal and sport horse auction held at the 2016 Trakehner Stallion Licensing in Neumunster, Germany.  Konstantin (by Millennium x Munchhausen) sold at auction for 80,000 euro.
Born on 26 April 2016 Konstantin lost his dam Kalinowska eight weeks later. It was the start of a period of worry and waiting for breeder Ines Eisold from Ahrensfelde near Berlin. She, Christoph Richters, and the entire Eisold family worked tirelessly for the colt: Konstantin refused any formula milk, no nurse mare could be found and eventually Eisold and Richters tried every nutritional trick in the book. "He refused the lot - he was a fighter right from the start", Richters reminisced, who was clearly emotional after the record bid was made. 
Ines Eisold was also visibly affected by the auction, and the memory of her mare Kalinowska. She has two Münchhausen mares, one has already given her an outstanding filly by Millennium, the other daughter of Münchhausen gave birth to the colt Konstantin. "After the filly I thought that the pairing of Millennium with Münchhausen daughters couldn't be a bad thing, so I had Kalinowska paired to Millennium", explains Eisold.
The lucky new owner of the auction's most expensive colt is Anna Nolte who runs Hofgut Rosenau in Dreieich.
In all, eleven foals were sold at the Trakehner Stallion Market for a total of 160,000 euros. The average price climbed to 14,545 euro, after it being 8,045 euro in 2015.
The most expensive riding horse at the auction was the 4-year old Trakehner Young Horse Champion Vapiano (by Kentucky x Easy Game). The licensed chestnut stallion, owned by Roswitha Beckmann and Martina Timm, sold for 70,000 to a client in Lower Saxony.  The 10-year old gelding Puerto Rico (by Donaufischer x Kostolany) switched owners for 50,000 euro. Six sport horses sold at this auction and they achieved an average price of 32,166 euro.
Of the non-licensed stallions sold at auction, the bay Skyjacker (by Sixtux x Cadeau) became the most expensive one, selling for 30,000 euro. The average price for a non-licensed stallion was 14,000 euro.
Related Links
54th Trakehner Stallion Market - Economic Factor and Meeting Place
Instagram Top Seller at 2016 Trakehner Elite Foal Auction