WBFSH News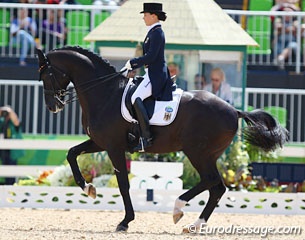 The Hanoverian society and the dressage horse Desperados have topped the final FEI/WBFSH rankings of 2016 for studbooks and horses. The Hanoverian society took over the number one spot from the KWPN society best represented by Valegro.
The Hanoverian society took over the lead position from the KWPN society and topped the ranking for studbooks in 2016. With 14,083 ranking points, the Hanoverian Verband produced the strongest scoring interntional Grand Prix dressage horses of 2016. The Hanoverian effort has been spearheaded by Desperados, assisted by Showtime, Don Auriello, Don Luis, D'Agostino and Rosevelt.
The highest ranked dressage horse is Desperados, a 15-year old Hanoverian licensed stallion by De Niro x Wolkenstein II. Bred by Herbert Schütt, GER, and owned by Gestut Sprehe, Desperados scored the highest total of 2813 ranking points. Under Kristina Bröring-Sprehe, the black stallion won team gold and kur bronze at the 2016 Olympic Games in Rio de Janeiro, Brazil.
Last year's winner, the Dutch warmblood gelding Valegro who became the 2016 Olympic Champion, has dropped to a 40th place on the ranking because he only competed at two international shows in 2016 and did not gather more points.
At the 2016 WBFSH annual meeting in Geneva in December the winning studbooks of the three disciplines dressage, jumping and eventing will be honored.This year the studbook rangkings are dominated by the German studbooks Hannoveraner Verband and Verband der Züchter des Holsteiner Pferdes e.V. which both take a first place and a second or third. The Irish Sport Horse (ISH) has yet again taken first place in eventing. The studbook ranking are:
 
Dressage Studbooks
1. 14083 – Hannoveraner Verband e. V. (HANN)
2. 13945 – Koninklijk Warmbloed Paardenstamboek Nederland (KWPN)
3. 12626 – Verband der Züchter des Oldenburger Pferdes e. V. (OLDB) 
Dressage Horses
1. 2813 – Desperados
2. 2770 – Weihegold OLD
3. 2679 – Showtime
View the complete ranking here
Photo © Astrid
Related Links
Valegro and KWPN Top Final 2015 WBFSH Dressage Horse and Studbook Ranking
Valegro and KWPN Top the 2014 WBFSH Dressage Breeding Ranking
KWPN Tops 2013 WBFSH Breeding Ranking for Dressage and Show Jumping
KWPN Society and Valegro Lead 2012 WBFSH Dressage Ranking
KWPN Leads 2011 WBFSH Ranking in Dressage
Totilas Takes KWPN to the Top in 2010 WBFSH Ranking
Hanoverians Win 2006 WBFSH World Breeding Dressage Ranking