Trakehner Breeding News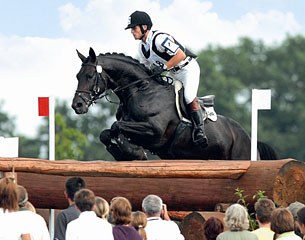 "The Graf" takes it: Grafenstolz TSF will be awarded the title of 2016 Trakehner Stallion of the Year at the 54th Trakehner Stallion Market from 20th to 23rd October in Neumünster's Holstenhallen.
The dark bay Trakehner stallion by Polarion out of Gipsy Lady by Camelot-Arogno is a combination of everything that makes the perfect Trakehner - performance capability and motivation, beauty, character and temperament. Grafenstolz TSF, who is now 18 years old, will receive his title on Saturday 22nd October at the Gala Evening of the Trakehner Association. 
"The Graf" - which means "The Count" in German - is under British ownership. Kenneth Rehill (The Stallion Company), who keeps stallions in Haras de Rodez in France, acquired the smart brown stallion from Gestüt Birkhof in Donzdorf. And the director at Birkhof, Thomas Casper, purchased Grafenstolz in the year 2000 at the stallion market in Neumünster. It was there that the then two-year-old Grafenstolz shone as a premium stallion, making his breeder, Gestüt Heinen-Bönnighardt - namely Hans-Peter Heinen (Ger/Issum) - very proud. Grafenstolz's training and sporting development began in Donzdorf, and sensational results quickly followed: In 2004 the Trakehner stallion qualified for three German championships: in show jumping, dressage and eventing! No horse before or since has matched this feat. The crowning glory of this development was winning the title of German Champion of the six-year-old eventing horses in 2004, as well as securing victory in the World Championships for Young Eventing Horses in Lion d'Angers in the same year.
World class rider Michael Jung in the saddle

Grafenstolz's rider and trainer was none other than Michael Jung (Horb), a true star rider - double Olympic champion, World and European Champion and Eventing Grand Slam winner. With Jung in the saddle, Grafenstolz TSF went on to secure bronze in the German Eventing Championships, international three-star placings and three two-star victories. He was quite the sensation in Marbach and indeed in Compiegne in France.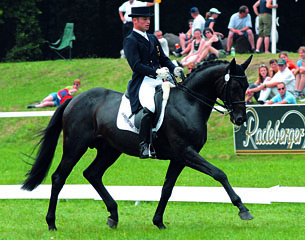 In 2015 Grafenstolz won particular acclaim in breeding circles: In the World Breeding Federation's list of sport horses Grafenstolz TSF stormed straight to 15th place. The offspring of this Trakehner stallion come from all warmblood breeds, as he is relied upon as a sire not only for the Trakehner region but also for the Hannoverian, Oldenburger, Rheinland/ Pfalz-Saar, Hessen, Bavaria, Thüringen, Saxony, and Baden-Württemberg breeds, as well as international breeding regions in countries such as Sweden, Italy and Selle Francais in France. And British Trakehner breeders in particular like using "The Graf" as a sire. It's no wonder then that Grafenstolz is regularly the father of foal championship winners and that sometimes up to half of the final collections of national foal championships are offspring of Grafenstolz. In 2013 ten of the 40 final foals were his children! In 2015 three of Grafenstolz's offspring stood out: one son was runner up of the five-year-old horses in Great Britain, whilst in France "The Graf" provided both the champion five-year-old horse and the European Junior Champion.
Making his mark in sport

The offspring of the Trakehner Stallion of the Year have also caused a stir in the sporting world: A recent example is Saviola, born in 2006, a daughter of Grafenstolz and Salome IX by jumping horse producer Abdullah. Saviola hails from Kurt Weschke's stud and belongs to her rider Maja Kozian-Fleck (Felde). In May 2016 this dream team won the three-star eventing in Baborówko/ Poland and were promptly called up by German national coaches Hans Melzer and Chris Bartle to be part of their German eventing B squad...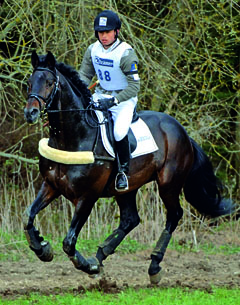 Still haven't got tickets for four fantastic Trakehner days?

Then act fast and secure tickets for the biggest event in the Trakehner breeder and fans' year: Tickets for the 54th Trakehner Stallion Market, for the young stallion licensing, the riding horse, mare, foal and stallion auctions and a varied supporting programme, taking place from 20th to 23rd October in the Holstenhallen, are available by phone +49 4321-9100, Fax +49 4321-910114 by post Hallenbetrieben Neumünster GmbH, Postfach 1308, D-24503 Neumünster, and by E-Mail patricia.doose@holstenhallen.com.
For further details visit http://www.trakehner-verband.de or find us on Facebook and Youtube.