Oldenburg Breeding News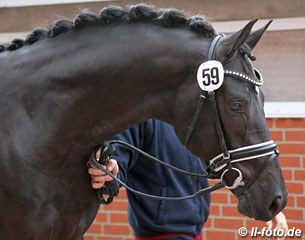 Forty-seven young dressage bred colts have been selected for the 2016 Oldenburg Stallion Licensing scheduled to take place at the Oldenburg headquarters in Vechta, Germany, on 17 - 19 November 2016.
More than 180 dressage bred colts participated in the pre-selection and strikingly the Oldenburg licensing committee picked a large number of KWPN sired colts for the licensing, with 14 out of 47 sired by a KWPN stallion.
The best represented sire in the lot is Furstenball (by Furst Heinrich x Donnerhall) with four direct offspring picked.
The selected colts for the 2016 Oldenburg licensing are:
Ampère x Royal Diamond x Krack C - Breeder & Owner: Fokkerij Klaverhof
Belissimo M x Sir Donnerhall x De Niro - Breeder:  Guenther Rottinghaus - Owner: Heinz Lahr
Bretton Woods x Sternkönig x Royal Diamond - Breeder & Owner: Anne Piirainen
Descolari x Rohdiamant x Flambeau - Breeder:  Dr. F. Klakow - Owner: Francois Schneiders
Fürstenball x Samarant x Harvard - Breeder & Owner: Carsten Nordbruch
Grey Flanell x Don Schufro x Akzent II - Breeder:  Dr. J. Hartmann - Owner: J. Ifversen & A. Schwierking
Grey Flanell x Ex Libris x Corde - Breeder:  Gerd Dannemann - Owner: Albert Bohne
Tomahawk x Zack x Michellino - Breeder:  L. & R. Dalsgaard - Owner: Jamie White Welling
Zack x Münchhausen x Donnerhall - Breeder & Owner: Stal Poppelaars
Bordeaux x Jazz x Painter's Row xx - Breeder:  A. & C. Denker - Owner: Kotschofsky & Neubauer
De Niro x Sandro Hit x Don Schufro - Breeder:  Henry Gr. Macke - Owner: Reesink Horses
Desperado x Fidertanz x Charon - Breeder:  Franz Baumler - Owner: Ad Valk & P. Kuypers
Desperado x Nourejev x Gribaldi - Breeder:  D.F. van der Scheur - Owner: Ad Valk
Fellini x Florencio x Jetset-D - Breeder:  A. Petrijs - Owner: D. Witte & De Dalhove
Follow Me x Lauries Crusador xx x Donnerhall - Breeder:  H.-H. Leismann - Owner: Dressurpferde LZ Lodb.
For Romance x Weltissimo x Lanthan - Breeder:  Dieter Schmidt - Owner: Christian Magnussen
For Romance x Dormello x Feiner Stern - Breeder:  Peter Baade - Owner: BG D'eer & Pundsack
For Romance x Jazz x Zuidhorn - Breeder & Owner: L. Hogervorst
Vivaldi x Donnerschwee x Rohdiamant - Breeder:  Henry Gr. Macke - Owner: Johan Ifversen
Vivaldi x Uphill x Darlington - Breeder:  J.G. Smits - Owner: Reesink Horses
Ampère x Fidertanz x Rubinstein - Breeder:  Gestüt Woldsee - Owner: BG Stevens/Gestüt Woldsee
Bordeaux x Sandro Hit x Donnerschwee - Breeder:  Bernd Huslage jun. - Owner: Lohmann
Danciano x Sandro Hit x De Niro - Breeder:  Anne Schulze - Owner: Stephanie Childeric
Destano x Swarovski x Trouble Maker xx - Breeder:  G. Looschen-Kemper - Owner: Gestüt Sprehe
Fantastic x Rubin Cortes x Romancier - Breeder:  Carsten Gebers - Owner: Kerstin Klieber
Follow Me x Johnson x Wolkentanz II - Breeder & Owner: Hugo Schmidgall
Fürstenball x Sandro Hit x Castro - Breeder:  Arnold Wegbuender - Owner: Rene Tebbel
Zack x Sandro Hit x Solos Carex - Breeder:  T. & O. Moeller Noergaard - Owner: Blue Hors
Ampère x De Niro x Liberty Son - Breeder & Owner: Gerd Sosath
Ampère x Lorentin I x Carthago - Breeder:  Ludwig Zierer - Owner: Karin Zierer
Damon Hill x Diamond Hit x Sandro Hit - Breeder:  Theo Binder - Owner: Binder & Futterer
Danciano x Sandro Hit x Rubinstein - Breeder:  Alfons Kramer - Owner: S.& W. Klausing
Franziskus x Zack x Don Schufro - Breeder:  Next Gen. Dressurpferd - Owner: J. Hinnemann & S. Wolf
Fürst Larino x De Niro x Consul - Breeder:  Georg Brüggemann - Owner: Marion Gräbener
Fürstenball x Johnson x Donnerschwee - Breeder & Owner: Dorit Böckmann
San Amour x Carry Gold x Feingau - Breeder:  Stall Troff - Owner: Kerstin Klieber
Foundation x Fürstenball x Rohdiamant - Breeder & Owner: Gestüt Lewitz
Fürstenball x Quattro B x Ramino - Breeder:  H. & E. Schulte - Owner: Johannes Westendarp
Quateron x Don Diamond x Royal Dance - Breeder & Owner: Omnium cons. S.L.
Totilas x Sandro Hit x Figaro - Breeder:  Dr. J. Hartmann - Owner: Marten Hillmann
Diamond Magic x Charming x Werther - Breeder:  Frank Wohlhorn - Owner: F. Wohlhorn & J. Henning
Feedback x Sir Donnerhall x Don Cavallo - Breeder:  ZG Wencek - Owner: S. Grede & J. Bornhorst
Livaldon x Dancier x Feinbrand - Breeder:  Ulrike Buurmann - Owner: Thomas Ehrengut
Lord Leatherdale x Metall x Formateur - Breeder:  H.B.C. Stal - Owner: Van Olst Horses
Bretton Woods x Fürstenball x Don Schufro - Breeder & Owner: Gestüt Lewitz
Escolar x Contender x Coriander - Breeder & Owner: Hermann Gerland
Sezuan x Hotline x Zardin Firfod - Breeder & Owner: Morten Plenborg
Photo © LL-foto
Related Links
Zodiakus, Champion of the 2016 Oldenburg Saddle Licensing
Bonds, Champion of the 2015 Oldenburg Stallion Licensing