2016 Hungarian Dressage Championships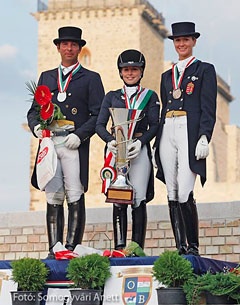 Nikolett Szalai became the brand new Grand Prix Champion at the 2016 Hungarian Dressage Championships held in Diosgyor, Hungary, on 9 - 11 September 2016. The pair was a league of their own placing far ahead of the rest of the field of six which determined the big tour championship.
Szalai and her 11-year old Hanoverian Willy the Hit (by Wolkenstein II x Brentano II) reigned supreme at Grand Prix level winning each round with a major score advantage. She posted 70.579%, 68.540% and 72.125% to earn the gold medal, champion sash and national title with a total of 211.244 points. Szalai works as trainer at the Mariakalnok equestrian centre.
The silver medal went to Robert Acs aboard Heike Pinneau's 11-year old Oldenburg bred Rasputin (by Rubin Royal x Sandro Hit). The duo posted marks of 65.974%, 65.520% and 69.725% to finish second overall with 201.219%. The bronze medal went to Emese Vagi on her own, 13-year old Oldenburg gelding Discovery Hit (by Diamond Hit x Romancier) aboard whom she posted marks of 64.895%, 64.300% and 66.125% to slot in third with 195.320 points.
"I didn't expect to win. I only wanted to show good tests," said an ecstatic Szalai, who has followed her coach Robert Acs from Germany to Hungary in his move back home last year. "Willy was really good form in the competition." Szalai has been riding her Hanoverian since he was a 4-year old and now hopes to make her big international break through in 2017. "I really want to ride many international competitions next year and I really hope to go to the European Championship as well."
The 2016 Hungarian Championships also featured Nationals in three further divisions. As Hungary still has a smaller group of youth riders, they were paired together in classes not based on age but on performance level.
In the "Light" division the pony and children riders contested each other at L-level with pony rider Hanna Hoffer taking top honours on the 8-year old palomino pony Macciato (by The Breas My Mobility x Bogenschutze). She scored 69.086%, 68.533% and 70.848% for a 208.467 and gold medal winning total. Children's rider Boglarka Farkas got the silver aboard Chicago (by Aranykapu Carismo x Ron William) with 67.829%, 65.833% and 69.030% for a 202.692 total. Szilvia Pinterne Molnar and Renoir got the bronze after scoring 67.200, 67.067% and 67.333%.
In the M-S level championship riders from junior level to seniors were grouped together. Seasoned junior rider team rider Berill Szoke Toth and the 13-year old Hanoverian mare Donna Romma (by Don Frederico x Warkant) topped the board for gold with 70.250%, 70.083% and 73.275% (total 213.608 points). Senior rider Aniko Losonczy and the 8-year old liver chestnut French Kiss got the silver with 69.778%, 69.194% and 71.700% to finish on 210.672 points. Senior rider Erika Szeicz steered her own Spartakus to the bronze with 69.056%, 66.778% and 71.400% (207.234 points).
At small tour level, juniors, young riders and seniors battled it out for another set of medals. Erika Szeicz and her 9-year old Oldenburg bred Son of Glory OLD (by Sorento x Weltmeyer) aced the division for gold after scoring 70.237%, 71.079% and 72.400% (total 213.716 points). The 25-year old Mate Garai and the 12-year old Hanoverian bred Royal Flesh (by Royal Highness x Warkant) grabbed the silver with 68,579%, 70,237%, and 71,850% (total 210,666 points). Junior Berill Szoke-Toth and her young rider's mount Donnington Park, a 12-year old Hanoverian by Damon Hill x Mister A, were good for bronze with 67,526%, 70,711% and 72,100% (total 210,337 points).
Related Links
Hungarian Team Selected for 2016 European Pony Championships
Hungarian Riders Selected for 2016 European Junior/Young Riders Championships