Danish Dressage News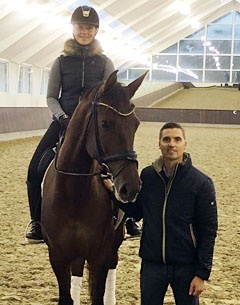 Danish Olympian Anna Kasprzak has acquired the 5-year old World Champion Victoria's Secret from her trainer Andreas Helgstrand and his business partner Bolette Lyngby Wandt.
The Rhinelander mare by Vitalis x Fidermark sold to Denmark at the beginning of September. She is bred by Walter Schulte-Böcker and was previously owned by Andrea Klüfers and Matthias Fieseler of Rhenania Pferde in Alpen, Germany. Under Beatrice Buchwald, the mare won the 5-year old division at the 2016 World Championships for young dressage horses in Ermelo, The Netherlands, in August.
Anna tried the powerhouse mare during a training camp at Andreas Helgstrand earlier this week and was "completely sold" from the first moment she sat on the horse.
"Victoria´s Secret has a wonderful temperament, and I have a feeling that she is capable of going all the way with me," Anna explained.
Right after Helgstrand bought the mare, she qualified for the semi finals of the Danish championships for 5-year-old horses under Andreas' stable jockey Betina Jæger. The semi finals are taking place this weekend and Kasprzak has decided to compete the mare herself on Sunday.
Related Links
World Champion Victoria's Secret Sold to Denmark
Victoria's Secret Wins 5-Year Old Finals at 2016 World Young Horse Championships
Buchwald and Victoria's Secret On Gold Medal Course at 2016 World Young Horse Championships