American Dressage News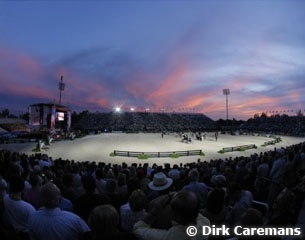 The Kentucky Horse Park in Lexington, KY, U.S.A., has submitted a letter expressing formal interest in hosting the 2022 World Equestrian Games.
The FEI informed the state of Kentucky and the U.S. Equestrian Federation that they will be notified in December if they have made the shortlist of official candidates for the international horse sport championships.
"We are hoping we would at least make this first cut," said Horse park commission chairwoman Tandy Patrick on Wednesday to the Lexington Herald Leader. She said they are waiting until then to begin making formal plans for the bid process.
The Kentucky Horse Park is sponsored by Rolex, the main rival of the  FEI's official sponsor Longines. This conflict of interest might prompt the FEI not to accept the Lexington bid. The FEI signed a long-term "top sponsor" deal with rival Swiss watchmaker Longines in 2013, a deal which is reportedly worth at least $130 million over 10 years and which apparently would run at least through the 2022 games.
In 2010, Rolex agreed to pay $1.2 million over 10 years for naming rights for the $25 million stadium. That sponsorship expires at the end of 2019, Patrick said
"We're obviously very grateful to Rolex," Patrick said. The stadium was built to accommodate show jumping and dressage, two of the disciplines that held world championships at the 2010 World Equestrian Games at the Kentucky Horse Park. Without the help of Rolex "it would have been challenging," Patrick said. "We would have had to put up a lot more temporary seating."
The sponsorship apparently doomed Kentucky's bid to repeat at WEG host for 2018; the state lost out to Canada, which subsequently had to withdraw after failed finances.
A new venue for the 2018 World Equestrian Games still has not been allocated but the decision is on the FEI's agenda for November. Two locations are in the running to take over from Bromont: Tryon (USA) and Samorin (SVK).
Photo © Dirk Caremans
Related Links
Samorin Thrown into the Mix as 2018 World Equestrian Games' Candidate
Tryon Announces Bid for 2018 World Equestrian Games
Bromont and Lexington In the Running to Host 2018 World Equestrian Games, Wellington Drops Out