2016 British Dressage Championships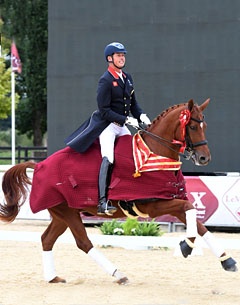 Crowd favourite Carl Hester took the final title and most prestigious one, the Grand Prix Champion, of the 2016 British Dressage Championships held at Stoneleigh Park on 16 - 18 September 2016. It has been thre years since Hester grabbed the national Grand Prix title, his last grand champion's national gold was in 2013 aboard Gemma Appleton's Fine Time.
Aboard Carol Ingham's 15-year old Hanoverian gelding Wanadoo (by Wolkenstein II x Cavalier) Carl won the Grand Prix Freestyle with a huge 79.78%. Placed first by all the judges, Carl was the clear winner ahead of runner-up Charlotte Dujardin. She scored 77.20% on her own, Anne Cohn and Carl Hester's Barolo. Taking third position was Hayley Watson-Greaves on her own WG Rubins Nite. 
Hester and Wanadoo also won Saturday's Grand Prix class after a near mistake-free test that earned them the top score of 72.94% - just over one percent ahead of last year's National Champions Charlotte Dujardin and Barolo (71.88%).
"It's been a really lovely day," enthused Carl after an energetic freestyle prize giving racing around the arena with second-placed Charlotte Dujardin and Barolo. "Yesterday, Wanadoo was a little bit rusty, because I'd been in Rio for three weeks I thought he'd lacked a show as I hadn't been able to fit any in. But today he's back on form and I did my music from London 2012, so it gave me a bit of a lift. The music was originally made for Uthopia, who was a much bigger mover than Wanadoo, but it was really good because it made me really ride forward to keep up with the music – which seemed to suit him today because he responded well. I mean, to be just shy of 80% on Wanadoo is a great, great achievement for me, him, his owner Coral and the team at home, who'll be very excited with how he went today."
Carl and Wanadoo may have only been together for just over a year, but already they have celebrated great success together with international wins at Saumur, Hickstead, Jerez, Keysoe and Compiegne CDIs
"I'm never disappointed with Wanadoo, he's the cutest horse on the yard. He always neighs at me in the morning when I walk around – and he's the only one, I might add," he laughed. "I'm not Dr Doolittle but he always screams at me, and of course that endears him to me, we have a very lovely relationship.
Michael Eilberg Wins Inter I Kur to Music
Michael Eilberg rounded out his weekend at the British Nationals with a second small tour title. After winning the Intermediaire I Championship, he also claimed the Inter I Kur to Music on Saturday 17 September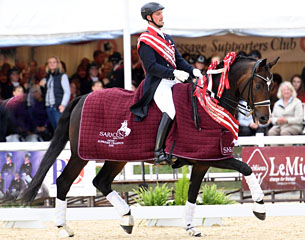 The Intermediate I Freestyle belonged to Michael Eilberg with the super-talented Sa Coeur (by Sir Donnerhall x Don Davidoff) who rode a cracking test in front of the crowds. To Michael's tried-and-tested Gary Patteson-produced freestyle, the pair produced a seamless, emotive performance, without missing a beat, to score 76.63% for a clear lead.
The Russian owned Oldenburg gelding Sa Coeur is a powerful athlete who moves with flawless rhythm through the movements - qualities which helped him earn the crown of World Young Horse Champion as a five and six-year-old under Eva Möller, who's here as ride judge for the Young Dressage Horse Championships. The now nine-year-old, a good looking bay gelding owned by Elena Knyaginicheva, is progressing smoothly through the levels under the tutelage of the Eilberg family: "Eva hasn't seen him since I rode him here in a demo so it's good for her to see him again at this level. He has a special place in her heart," said Michael.
"Sa Coeur is a lovely character. It's what you live for – having horses like that and we [the Eilberg family] pride ourselves in keeping them healthy and happy. His record is excellent – he's won everything bar one competition, including Small Tour wins in Saumur, Roosendal and at Keysoe.
The Eilberg-family set-up provides the ideal environment for the horses under their care to flourish. "We [the Eilberg family] know each other so well and support each other without even knowing it. It's a really good set up and my parents are amazing. They're still there supporting us [Michael and his sister Maria] and between all of us there's nothing that gets missed."
Photos © Kevin Sparrow
Related Links
Scores 2016 British Dressage Championships
Eilberg and Sa Coeur Win Inter I Title at 2016 British Championships
Dujardin and Moody Take First Titles at 2016 British Championships
Previous Winners
Charlotte Dujardin Wins 2015 British Grand Prix Championships
Michael Eilberg Wins 2014 British Grand Prix Championships
Carl Hester Brings Tally to 66 at 2013 British Dressage Championships
Carl Hester Wins 2012 British Grand Prix Championships
Bechtolsheimer, Woodlander Farouche and Carinsio Dominate Final Day of 2011 British Championships
Laura Bechtolsheimer Wins 2010 British Grand Prix Championships
Carl Hester and Liebling II Grab 2009 British Grand Prix Champions' Title
Maria Eilberg, 2008 British Dressage Champion
Spencer Wilton and Dolendo, 2007 British Dressage Champions
Sandy Phillips and Lara, 2006 British Grand Prix Dressage Champions
Laura Bechtolsheimer and Douglas Dorsey Win 2005 British Grand Prix Championships
Hester and Escapado Win 2004 British Grand Prix Championship
Richard Davison, 2003 British Dressage Champion with Ballaseyr Royale
Nicky Barrett Claims Her First Grand Prix Champion's Title at 2002 British Dressage Championships