2016 British Dressage Championships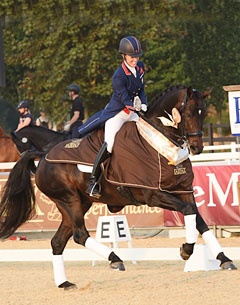 The 2016 British Dressage Championships at Stoneleigh Park kicked off Thursday 15 September 2016 with Charlotte Dujardin grabbing the Prix St Georges title and Becky Moody claiming top honour in the Intermediaire II. The British Nationals are a major title fest with championships for every class instead of recognizing overall level winners.
Dujardin was a league of her own in the Prix St. Georges taking first and second place. Not content with a win on Hawtins Delicato (75.66%), Olympic champion Dujardin also took the runner-up spot on 7-year-old Mount St John Freestyle (74.53%). This hotly contested class, sponsored by Fairfax Saddles, featured some top level riders and the top seven all sat above the seventy percent barrier.
Both of Charlotte's horses have relatively low mileage and are inexperienced at this level, however it really didn't show. Carl Hester and Ann Crory's gelding Delicato (by Diamond Hit x Regazzoni) won the regional final at Mount Ballan to get here and Emma Jane Blundell's Mount St John Stud Freestyle (by Fidermark x Donnerhall) has only done one Prix St Georges before this - winning at Hartpury Premier League to book their qualification to the national championships. Both produced classy tests under their flawless rider and look set to be ones to watch for the future. Former British team rider Michael Eilberg and Elena Knyaginicheva's Oldenburg Sa Coeur (by Sir Donnerhall x Don Davidoff) landed the bronze position with a 73.55% score.
"I'm so thrilled!" announced an exhilarated Charlotte after an eventful lap of honour (Michael Eilberg's Sacoeur decided he would rather be first instead of third and overtook the winners). "I've only competed him three times as Amy Woodhead usually rides him, so for me to come here and get that score and that test out of him was just amazing."
"There's something about the Nationals." She continued. "All my horses are different here and he was really lit up today. It's the atmosphere, the flags and everything being so close, plus it's rare that you get the crowd clapping in the middle of your test [from the second arena]. He's not experienced a lot, so I was really pleased with him."
Not content with just the win, Charlotte's second ride of the Championship class, Mount St John's seven-year-old Fidermark-sired mare Mount St John Freestyle, collected second place with an equally impressive score of 74.53%. A couple of mistakes in the changes meant that she just missed out of the top spot, however showing such quality in just her second PSG test proves that she's definitely one to watch for the future.
"She is just amazing, it was such a shame we had mistakes in the changes – which is crazy because she's usually so strong in those and we've been working hard on the canter zig-zag. It's probably my fault actually because I relaxed once we had finished the hard stuff! But she has a heart of gold and always tries her hardest; she's such an exciting prospect for the future."
Moody and Carinsio Win Inter II Championship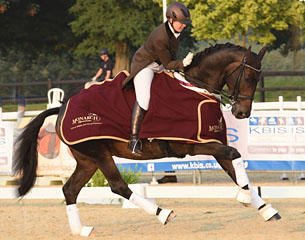 Last year they won the Inter I freestyle at the 2016 National Championships and this year Becky Moody and 9-year-old Carinsio (by Painted Black x Beaujolais) went one better to claim the Intermediaire II Championship title. They won convincingly with 73.66% ahead of Gareth Hughes on new ride, Don Carissimo (by Don Crusador x World Cup III) which was previously competed by Matt Hicks and briefly trained by Olivia Oakeley. Hughes and Don Carissimo scored 72.11%.
Carinsio looked to be the favourite going into this tight class as he and Becky have notched up three Premier League wins at this level over the summer. This winning combination have proven to be ones to watch dominating the small tour classes in 2015 and cementing their form with a win at last year's Mount St John Future Elite Championship at Horse of the Year Show. Having successfully stepped up to Inter II level this year, it will be exciting to see this combination display their Grand Prix work competitively next year. Matt Frost and the Norwegian warmblood Tribiani (by Solos Landtinus x Michellino) were third with 71.37%.
Becky has had the horse since he was three and has progressed easily up the levels, dominating the small tour classes in 2015. This was only their fifth go at Inter II, having won at three Premier Leagues over the summer but this result gave them a new personal best by 2%. "I was really pleased with how the horse went and there were a lot of super combinations in the class so I'm feeling good!"

This polished combination showed lots of great work in their test, "I was really pleased with the canter pirouettes. It was a nice safe clear round though there's still lots of room for improvement. He needs to get a little stronger and his passage needs to be a little sharper but overall it was a good solid test."
Jack, as he's known at home, can be a character, "he's a really funny horse, when I'm doing things – trotting, cantering and keeping busy – he's absolutely brilliant, he's not spooky and it doesn't faze him. The hardest thing is when you're walking and he's got time to think about what's around him. So I was pleased that we actually did walk!"
Next year will see the combination aim to step up to the next level once again, "I would like to think that training the horse to Grand Prix has always been our goal with him. I have brilliant support from my trainer David Hunt and he is a big believer that you should always be aiming for that, so he was ready for the step up to Inter II because of the training we'd been putting in along the way. He's stepped up really easily. Next year he's going to go proper Grand Prix and I'd like to do some internationals with him then."
Photos © Kevin Sparrow
Related Link
Scores 2016 British Dressage Championships