2016 U.S. Young and Developing Horse Championships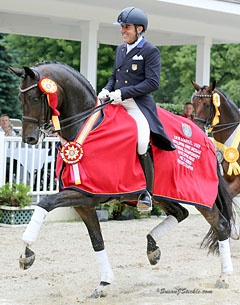 For Olympian and U.S. Pan Am Games dressage team gold medalist Cesar Parra taking a step back from the international Grand Prix scene in 2015 to focus on scouting, developing and competing young horse talent has certainly paid off.  At the 2016 U.S. Young and Developing Horse Championships in Wayne, Illinois, Parra bagged two reserve champion's titles with Fashion Designer OLD and Don Cesar.
Both horses were scouted by Cesar in Germany and have been slowly developed up the levels from green broken to international calibre young talent.
Aboard Martin Sosnoff's 8-year old Oldenburg bred Fashion Designer OLD (by Faustinus x De Niro) Parra scored 70.658% and  70.294% in the Developing Prix St Georges horse championship and claimed the reserve champion's title. The dark bay gelding has now added another top notch to his tally after winning the 2013 National title as a 5-year old and getting bronze in the 2015 Championships.
"I was thrilled with Fashion Designer," said Parra. " I have always believed that he is a top, top horse. He has improved tremendously in suppleness and rideability in the last year. I am really taking my time with him and with his development. My partner Martin Sosnoff has no pressure and we want to do the very best for Fashion. He is a horse to be in the top for the Toyko 2020 Olympics. When you watch him go you can see how much he loves his job and he really shines in the Grand Prix movements."
Cesar's second ride, the 6-year old Westfalian gelding Don Cesar (by Desperados x Manhattan), landed the reserve champion's title in his age category. The impressive chestnut scored 82.800% and 85.400% for the silver medal.
"Don Cesar is an amazing young horse. He tries his best every single time you ride him.  He is quite sensitive but always stays with you.  He has grown a lot in the last month's so he is trying to coordinate his mind with his body," Parra explained. "He has such talent for collection the challenge is to tell him not to work so much! I was thrilled with his performance at Lamplight and excited for his future. The judges were very enthusiastic about him!"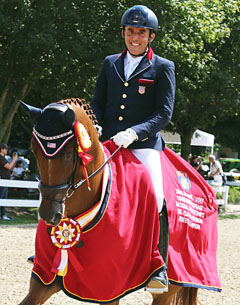 With the ride on his top Grand Prix horse GK Van The Man given to an Under 25 rider as schoolmaster in 2015, Cesar has freed up important time to search for high quality young horse talent in Europe and bring it to America to develop up the levels.
"I'm in Europe several times a year. I think it's important as a professional to keep seeing what is being bred there, what is available, how they are moving, etc. I do love developing horses from young Horses, but enjoy the horses at all levels," Cesar stated.
Cesar is deliberately taking his time with the youngsters and training them slowly to FEI level before selling them to clients or nurturing them for Grand Prix level competitions.  The U.S. Young and Developing Horse Championships at Lamplight have always been a season highlight on Cesar's calendar but he carefully considers which youngsters to qualify and compete there and which should stay home to mature more.
"It's important to know your horse and what they are ready for. Not every horse is ready to show as a 5-year old," he said. "That doesn't mean that they aren't a fantastic horse for the FEI levels. I truly believe the horses tell us what they are ready for and we have to listen. I have a number of young Horses horses at home that did not do the young horse classes. It makes no sense to do something they aren't ready for."
Fashion Designer OLD and Don Cesar have joined a string of horses -- including  Simply Nymphenburg,  Fiderhit, Zanzibar, Toy Story, and Donovan -- from Parra's Piaffe Performance Farm in Whitehouse Station, NJ that have garnered titles, champion sashes, trophies and ribbons at the U.S. Young and Developing Horse Championships.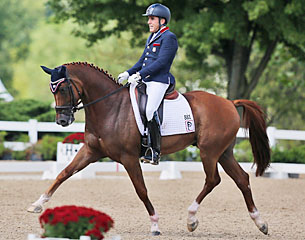 Parra and his team are now looking forward to training and competing in Florida this winter. With high quality horse stock in his barn, and a new crop of exciting horses arriving from Europe soon, the 2017 show season will be a promising one.
"Fashion is schooling the Grand Prix movements well, so we will see if he is ready for the Developing GP division," said Cesar. "We have a fantastic new Grand Prix horse from GK Horses (Darius Rubin) that just arrived. I am super excited about him. Lindner is doing really well, so I hope to begin showing him in Florida. And we have a couple of younger superstars that will start their careers. I'm excited about the future."
Photos © Sue Stickle -  Mary Phelps
Related Links
Habanero CWS, Desario, Horizon Win Title at 2016 U.S. Young & Developing Horse Championships
Piaffe Performance 84.8% Ready for 2016 U.S. Young and Developing Dressage Horse Championships
Oldenburgers Fiderhit OLD and Fashion Designer OLD Gear Up for 2014 U.S. Young Horse Championships
Oldenburg Society Bestows OLD Designation on Fiderhit and Fashion Designer