Eurodressage Market - Services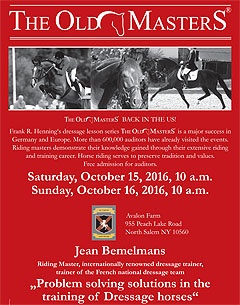 Belgian born, German based dressage trainer Jean Bemelmans will be the keynote speaker and clinician at this year's two-day educational Old Masters Clinic at Avalon Farm in North Salem, NY, on 15 - 16 October 2016. Frank R. Henning's dressage lesson series "The Old Masters®" is a major success in Germany and Europe.
More than 600,000 auditors have already visited the events. Riding masters demonstrate their knowledge gained through their extensive riding and training career. Horse riding serves to preserve tradition and values.
Jean Bemelmans is the guest clinician for the 2016 U.S. Old Masters series on Saturday 15 October and Sunday 16 October 2016, starting each day at 10 AM. The internationally renowned dressage trainer and French national team coach will focus specifically on "problem solving solutions in the training of dressage horses."
This theme for the weekend event will show riders and spectators how to develop solutions to daily training problems with empathy for the horse and good horsemanship. Watching the variety of horse and rider combinations will help the auditors find suggestions and ideas for their own everyday training. Jean believes in acknowledging the horse as a real partner and learning to understand and accept the horse in order to avoid possible problems.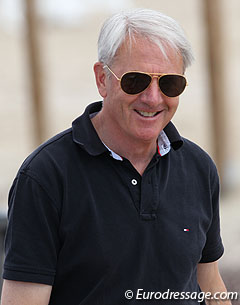 Bemelmans is an accomplished rider, having won 50 international Grand Prix competitions himself. He has earned German bronze Olympic medals in 1984, 1988, and 1992, and then continued to manage the Spanish team earning bronze in 2003 and silver in 2004. After 15 years as the Spanish team trainer, Jean is currently coaching the French national dressage team. It is a special privilege to learn from this dressage master. His visit to the US is in conjunction with Frank R. Henning and The Old Masters Series.
This event is totally free of charge to auditors and demo riders. Donations are being accepted to serve a dual purpose of raising money to support dressage education and breast cancer patients.  All proceeds from this event will be donated toward Dressage Education and Breast Cancer.
The clinic takes place in the indoor arena and refreshments will be offered
Venue
Avalon Farm
955 Peach Lake Road
North Salem, NY
10560
U.S.A.
Registration