Danish Warmblood Breeding News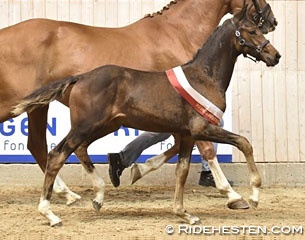 Filly Francisca Lightfoot and colt Bøgegårdens Santiago Bernabéu were proclaimed the Champion Dressage Foals at the 2016 Danish Warmblood Elite Mare Show in Vilhelmsborg, Denmark, on 24 - 27 August 2016.
Francisca Lightfoot (by Franklin x Michellino), bred by Annette Lyngs and Torben Damsbo, was named Champion Dressage Filly of 2016. This was the second time that this Michellino dam has produced the best dressage filly foal. The first time was ten years agao. Francisca Lightfoot moved with incredible elasticity, showing lots of swing and rhythm in her uphill movements.
Five fillies were invited to the champion's ring to battle for the national title. The other finalists were Nordstrands Dior (by Hesselhøj Donkey Boy), Senzatonall Diva (by Sezuan), Hedelunds Miss Infinity (by Temptation) and Soros Diva (by Hesselhøj Donkey Boy).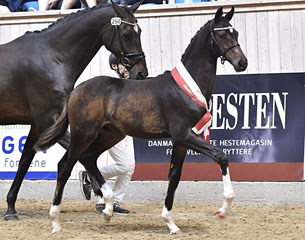 Bøgegårdens Santiago Bernabéu (by Børgegårdens Santiago x Bøgegårdens Laurina) was named the Champion Dressage Colt of 2016. The colt stood out with his handsome and masculine type and excellent canter. The grand dam of this colt is also the grand dam of triple Young Horse World Champion Sezuan.
Five colts were selected for the champions' ring. Santiago Bernabeu was joined by Lykke D'Artagnan (by Hesselhøj Donkey Boy), Dreamy Hit Kilen (by Dreamline), Plushorses Perception (by Franklin) and Lillevangs Santos (by Sezuan).
Photos © Ridehesten
Related Links
Delicious, Mildura, Schwarze Schwalbe, Tebaldo Winners of 2015 Danish Warmblood Elite Show
Strandagergards Sirocco and JJ Sasha, 2014 Danish Warmblood Foal Champions
Horgaard Tabasco and Springborgs Gateway, 2013 Danish Dressage Foal Champions
JJ Filippa and Tailormade Attraction Named 2012 Danish Dressage Foal Champions
JJ Fuji and Ellely's Tornado Named 2011 Danish Dressage Foal Champions
Dancing Boy and Stigma, Danish Dressage Foals of the Year 2010
Bjerggaards Don Perignon, 2006 Danish Warmblood Foal of the Year and Top Auction Foal