2016 U.S. Youth Riders Championships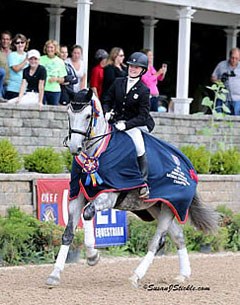 Young Rider Bebe Davis and Feivel Mousekewitz claimed the Young Rider Championship title, while Jenna Upchurch and Greystoke earned top honors in the Junior  Championship at the 2016 U.S. Youth Riders Championships held at Lamplight Equestrian Centre in Wayne, ILL, on Saturday 27 August 2016. In the U.S Pony hampionship division, Hannah Irons and Bohdjan took the early lead with a steady ride in the Pony Team Test.
Jenna Upchurch and Greystoke, 2016 U.S. Junior Riders Champions

Jenna Upchurch (Chesterfield, Mo.) maintained her lead following Friday's  Junior Team Test to win the U.S. Junior Dressage National Championship with her own Greystoke (by Rosentanz x Michelangelo). She and the 2005 Oldenburg gelding produced a lovely test with effortless movements marred only by a moment of resistance at the beginning of the canter work to earn a score of 69.123% for the Junior Individual Test. After the two days of competition, they finished the championship with a score of 69.697%.
"My test improved a lot with the basic flow of the test. The one bobble that we did have we recovered from quickly, which was great. It was really happy with how it went," Upchurch said.
Marline Syribeys (Atlanta, Ga.) and her own Hollywood also held on to their second-place position on the leaderboard with another great performance to earn the Reserve Champion title with a final score of 69.049%. Syribeys and the 2006 Hanoverian gelding had a great test with solid trot and canter work to score 68.684% to finish third in the class.
"I was really happy to have a clean ride. He seemed to be a little more energetic today, which was nice," Syribeys said.
Juliet Hess (Atlanta, Ga.) and Julia Stainback's Diano had a solid test, aside from an unfortunate error of course to finish third in the championship with an overall score of 68.500%. Hess worked on elongating the 2003 Belgian gelding's frame and getting him to relax his jaw, which paid off since they received a score of 68.711% to finish second in the class.
Barbara Davis Wins 2016 U.S. Young Riders' Champion's Title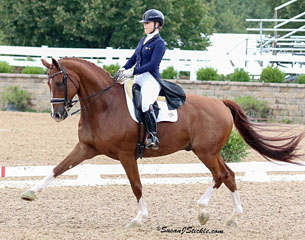 Davis (Wellington, Fla.) clinched the Young Rider Championship with Michael Davis' Feivel Mousekewitz on the strength of an excellent performance to win the Young Rider Individual Test with a score of 71.447%. She and the 2001 Hanoverian gelding had a powerful yet graceful test, allowing Davis, the 2013 American Junior Champion, to win another title. They finished the championship with an overall score of 70.044%, besting the 11-combination field.
"I haven't shown since I got home from Europe [after the USEF Dressage Young Rider European Tour]. Yesterday was more for me to get my confidence and get back into the mental mindset of showing and competing," Davis explained. "I felt that yesterday was a really clean ride; I was really, really happy with it. Today he just showed a bit more extravagance and brilliance that I was lacking yesterday. I'm over-the-moon happy and couldn't be more proud of him. It has been a great year and the European tour was such a great experience. I feel that I was able to learn so much from that experience that I was able to bring here. I couldn't be happier."
Rachel Robinson (Orlando, Fla.) finished third in Friday's Young Rider Team Test and delivered an improved test with Jeff and Lorraine Robinson's Indira to finish second in the Young Rider Individual Test on a score of 70.307%. The cleaner, more energetic test won Robinson and the 2004 Westphalian mare the Reserve Champion title with a score of 69.518%.
"Today we put in a much cleaner test than yesterday. Yesterday was pretty solid, but we did have a mistake in the fours and she was generally pretty tired. We had an extremely short warm-up, I was only out there for about 20 minutes. She had a lot more energy that carried through [the test], especially the canter work, and again really great pirouettes today; I think that was the highlight," Robinson said. Turning to her experience at the USEF Dressage National Championships at the Lamplight Equestrian Center, Robinson stated, "I love it here. This is my third time here; I have been here twice for [USEF Dressage] Seat Medal Finals, so this is my first Festival. This is cool seeing all three championships; there is always so much going on. It is nice seeing Christine Traurig coaching so many of the top young horse riders. It is really nice seeing everyone at a central location doing so many different things and doing so well."
Nicholas Hansen (Catawissa, Pa.) and his own Ritter Benno won Friday's test and had another solid performance in Saturday's test to earn a score of 69.342%. Hansen and the 2001 Westphalian gelding had a wonderfully smooth test with good energy and impulsion to help them finish with an overall score of 69.145%. He dropped from a gold medal position to a final bronze on Saturday.
Hannah Irons and Bohdjan Take Early Lead in Pony Championship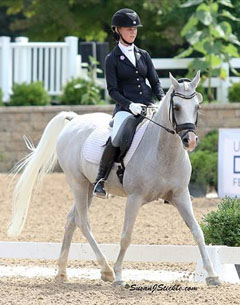 Irons (Queenstown, Md.) is attending her first National Championships, but was poised in the small but mighty championship field of seven combinations. With the four-time U.S. Championship veteran, Dressage4Kids' grey gelding Bohdjan, Irons had a fluid test to win the  Pony Team Test on a score of 67.521%. She and the 1999 Dutch Pony gelding had solid simple changes and trot work to lead the Pony National Championship after the first test, with the remaining 50% of the overall championship score coming from Sunday's Pony Individual Test.
"'Bobo' was totally amazing," Irons said with a smile. "Today he felt really good in the warm-up. He went out there and gave me his best. I thought he didn't feel 100%, and it ends up he lost a shoe, but he went through the whole thing and tried his heart out for me and I couldn't be happier with that."
Emma Count (Columbia, Md.) and her own Wicked Games delivered a solid performance to finish second in the division. She and the 2009 New Forest Pony mare had an accurate test to earn a score of 65.342%, highlighting the progress of their partnership over nine months.
"I was so pleased with her. It's been a long, long year. My favorite part of the test was the canter work because that has been not such a highlight the entire year. For tomorrow, I am hoping to improve the overall relaxation and suppleness. I'm just beyond amazed that we have come this far."
Julia Lee Barton (Lawrence, Kan.) had a respectable test with her own Bonnaroo to receive a score of 65.000% to finish third. The 2009 Weser-Ems mare has a tendency to be hot and tense in the competition ring, but Barton rode well to produce quality work from her partner of three years, having one of their best tests of the year.
Photos © Sue Stickle
Related Link
Scores 2016 U.S. Youth Riders Championships
Buffini, Hansen, and Upchurch Lead after Day One at 2016 U.S. Youth Riders Championships