2016 U.S. Young and Developing Horse Championships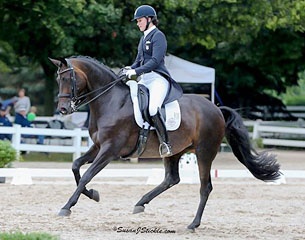 The first set of champions were determined at the 2016 U.S. Young & Developing Dressage Horse Championships on Saturday 27 August 2016 with the 4-year old Habanero CWS, the 5-year old Desario and the Developing Prix St Georges Horse Horizon winning the gold and national title in their respective divisions.
Adrienne Lyle and Horizon maintained their lead to win the Developing Prix St Georges Horse Championship. Christian Hartung and Desario, who received record marks, claimed the Five-Year-Old Championship, and Craig Stanley and Habanero CWS overtook Justine Wilson and Hero BHS for the Four-Year-Old Championship title. Today's tests counted 60% towards their overall score with the remaining 40% derived from Thursday's first round tests.

Horizon Wins 2016 U.S. Developing Prix St. Georges Horse Championship

Adrienne Lyle (Ketchum, Idaho) and Horizon competed with purpose during the Developing Horse Prix St. Georges Test to win the National Championship. Yesterday, Parry Thomas, a longtime supporter of Lyle and her coach, Debbie McDonald, passed away. In honor of his influence, Lyle and Betsy Juliano's 2007 Oldenburg mare overcame the muddy, rainy conditions for an outstanding test. They earned a score of 74.020% for an overall score of 74.272%.
"Today's ride was special. He [Thomas] has been incredibly influential and a huge supporter of U.S. dressage," said Lyle. "He was excited about the competition and loving dressage up to the day he went. He was watching over us, and we rode for him today."
Moving up from third place following the Developing FEI Prix St. Georges Test, Cesar Parra (White House Station, N.J) and Fashion Designer OLD captured the Markel/USEF Developing Horse Prix St. Georges Reserve National Championship with an overall score of 70.440%. The 2008 Oldenburg gelding gave Parra all that he had for an expressive test to earn a score of 70.294%.
"I love the [young and developing horse] program; I think it is fantastic. What I have learned from this is it is an incentive to keep doing things the right way, in the right line because there are no shortcuts. If you try to rush the young horse in these classes without having the basics you won't be successful," said Parra following yesterday's Developing FEI Prix St. Georges Test. "We improved a lot from the last test, and I'm happy to be the Reserve Champion," said Parra following today's competition.
Moving into third place overall was Nicholia Clarke (Temecula, Calif.) and Quincy, Jennifer Mason's 2008 Oldenburg gelding. They earned a score of 70.539% in the final test for an overall score of 70.429%.
Desario Wins 2016 U.S. Young Horse Championships for 5-year olds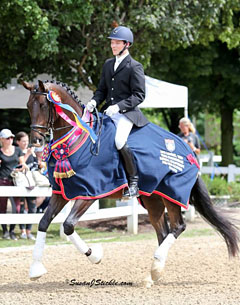 Hartung (Vacaville, Calif.) and Desario (by De Champ) went from second alternates for these championships to the winners of Five-Year-Old National Championship. With a spot open, he and Desario got the chance to exhibit their potential, and they did not disappoint. Hartung and Christiane Noelting's Oldenburg gelding mastered the Five-Year-Old Test for a score of 8.920, giving them an overall score of 8.824. Desario demonstrated three clean gaits and quality trot work for personal high scores in the final test. 
"Today's test went much different. It felt good going in. He could have pushed it a bit more going into the trot, but overall I was very happy with him," said Hartung. "I've been here  [in the U.S.] 10 years and qualified a couple horses, but this is my first year here. The facility is amazing, and it's a great venue for this show. The young horse program has the right process and policy in place."

Karin Persson (Bedford Hills, N.Y.) and her own Giuliano B (by Bon Bravour x Elcaro) also produced a nice test to earn the Five-Year-Old Reserve Championship title with an overall score of 8.484. She and her KWPN gelding earned a score of 8.460 following a score of 8.520 during the preliminary test.
"He has a super brain; if I ask him anything, he does it. It was a nice ride. I didn't feel a lack of power in the ring. They [the judges] loved the trot, and at the moment, it is the strongest, and that wasn't the case half a year ago," said Persson.
Cyndi Jackson (Glendale, Ariz.) and Sir Amour, Schuttler Stables LLC.'s Hanoverian gelding by San Amour x De Niro, remained in third place after the final test. With lovely walk and center work, they earned a score of 8.420 for an overall score of 8.260.

Habanero CWS Wins 2016 U.S. Young Horse Championships for 4-year olds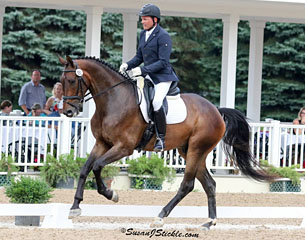 Stanley (Madera, Calif.) has been competing in these championships for three years. Now he has the U.S. Four-Year-Old National Championship title. He and his own KWPN gelding Habanero CWS (by Idocus x OO Seven) climbed from second place with a quality final test. They earned a score of 8.280 for an overall score of 8.256.
"His canter felt really nice, and the trot was a little better than Thursday; it was energetic and more up in the frame. His walk was less rushed than Thursday. It's a surreal feeling; I never thought I would be in this position," said Stanley.
Wilson (Beach Island, S.C.) struggled a bit in the final test, but her own KWPN stallion, Hero BHS (by Cover Story x Prestige VDL), gave her just enough to earn the Four-Year-Old Reserve National Championship title. They earned a score of 8.160 for an overall score of 8.208.
"This [show] is a very special place; it really develops your eye towards what your goal is. You can see the schooling on the four-year-olds and six-year-olds and see where you are supposed to be in the next couple of years, so you really develop an eye for what's here," said Wilson following Thursday's Four-Year-Old Test. "Today, I did not have the horse I am used to so it threw me off a little bit, but he is so talented. We have such a nice partnership, and he came back around for me and did just enough, so I am proud of him," added Wilson following Saturday's final test.
J.T. Burnley (Fulton, Ky.) rebounded from the first round test to earn a score of 8.320 in the final test. He and Won Million (by Widmark x Fidertanz), Anna Hopla's Hanoverian stallion placed third overall with a score of 7.920.
Photos © Sue Stickle
Related Links
Scores 2016 U.S. Young & Developing Horse Championships
Hero BHS, Desario, Horizon Take Early Lead in 2016 U.S. Young & Developing Horse Championships