2016 U.S. Youth Riders Championships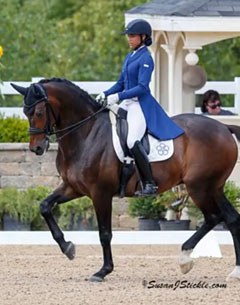 The three of four divisions of the U.S. Youth Riders Championships performed their first test on Friday 26 August 2016 at the Lamplight Equestrian Center. Anna Buffini finished one-two with Sundayboy and Wilton II in the Short Grand Prix Test to lead in the Under 25 Championship. Nicholas Hansen and Ritter Benno won the Young Rider Team Test, while Jenna Upchurch and Greystoke claimed top honors in the Junior Championship. Each division performs two tests with each test counting for 50% of their overall championship score.
Anna Buffini and Sundayboy Lead in Under 25 Division

Anna Buffini (Escondido, Calif.) claimed the top two places in the seven-horse field for the Short Grand Prix Test with her own Sundayboy and Wilton II, respectively. She and Sundayboy were the final duo to enter the ring, saving the best performance for last and earning a score of 71.256%. They had a fabulous test and made the movements look effortless.
"Sundayboy is like my rock. If I'm nervous, he is like, 'You're fine.' Even if it's a tough warm-up or a rainy day or something, he is always there for me. We are really comfortable with each other in the show arena, which is nice. I have never ridden a horse like this before and never had the connection with a horse like him, so I'm just enjoying every ride on him," Buffini said. "We just wanted to go in there and out in a clean test and we did it together and I'm so proud of him."
With Wilton II, a 2003 KWPN gelding, Buffini had a great test with impressive trot and canter extensions that was marred only by a bobble in the piaffe-passage work before the final halt. For their performance, they received a score of 67.488%.
"I just wanted to go out there and put in the best test we could and not ask for more than what we have been getting in practice. He really was there for me; it was fun to see how much he trusted me. We are fairly new [as a partnership], so it has been nice to feel him connecting more and trusting more. We really hit most of the things we wanted to hit. The last centerline wasn't a huge surprise, but he recovered afterward and came back to me so that was great. I'm just really, really proud of him."
Kerrigan Gluch (Wellington, Fla.) gave Hampton Green Farm's HGF Brio an excellent ride to finish third on a score of 64.233%. Though the 2005 Andalusian stallion had moments of tension, Gluch felt it was one of their best tests at the level and he was very rideable.
The championship will come to a close on Sunday with the Intermediate II Test, when the competitors will earn the remaining 50% of their overall championship.
Nicholas Hansen and Ritter Benno in Front in Young Riders Division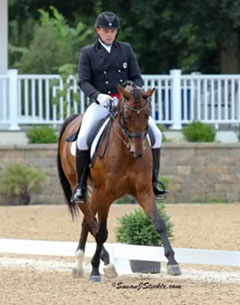 Nicholas Hansen (Catawissa, Pa.) and his own Ritter Benno had a lovely test amongst the talented field of 11 competitors to win the Young Rider Team Test with a score of 68.947%. Making their second appearance at the championship, Hansen and the 2001 Westphalian gelding displayed great power in their trot work, which was the main focus of their training since their fantastic success at the 2016 North American Junior & Young Rider Championships, where they won three Young Rider Gold medals.
"I thought it was a really good test. What we had been working on coming off of Young Riders was being able to solidify that the trot work was really forward and energetic and make sure that the shoulder stays high to get it a bit fancier trot than his normal trot," Hansen said. "Also, in the canter I thought it was really nice and rhythmic and really balanced throughout the whole canter work."
Allison Cyprus (Magnolia, Texas) is competing in her third U.S. Dressage Festival of Champions, having previously participated in the Pony Rider and Junior divisions. She is off to a strong start with Kristin Cyprus' Madoc Gareth. She and the 2004 Welsh Cob gelding had a fluid test aside from a bobble in their three-tempi changes. They finished second with a score of 68.728% following their great performance.
"I was pleased with my ride. The trot work was all pretty solid; I felt like I could've had a little bit more impulsion, a little bit more of a 'wow' factor to have a more expressive, fancier trot," Cyprus explained. "The canter tour was a little bit better, he was a little bit more in front of my leg. We had one bobble in the threes in our second change, but the pirouettes, fours, and extended canter were all really good. I'm happy, and hopefully we can fix our mistakes for tomorrow and get him a little more in front of my leg."
Rachel Robinson (Orlando, Fla.) had a solid test with Jeff and Lorraine Robinson's Indira to finish third on a score of 68.728%. She and the 2004 Westphalian mare had wonderful pirouettes that were a personal best, though could have had more energy at times during the test.
The remaining 50% of their overall championship score will be decided from Saturday's Young Rider Individual Test.
Jenna Upchurch and Greystoke Win Junior Opening Class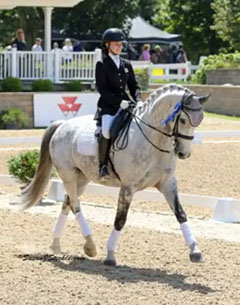 Jenna Upchurch (Chesterfield, Mo.) and her own Greystoke (by Rosentanz x Michelangelo) remained in their fine form following the 2016 NAJYRC, where they won Junior Individual and Freestyle Gold and Team Silver medals, to win the Junior Team Test with a score of 70.270%. Upchurch and the 2005 Oldenburg gelding demonstrated great harmony throughout the test and produced excellent trot and canter work. The pair bested the field of 11 combinations to take the early lead in the Junior Championship.
"In my test today, he was listening to me, which is always a good thing. He was paying attention to what I wanted him to do, so going forward, I could be more accurate and more precise," Upchurch said.
Marline Syribeys (Atlanta, Ga.) and her own Hollywood also found success at the NAJYRC, winning the Junior Team Gold medal, and delivered another solid performance on Friday. Syribeys and the 2006 Hanoverian gelding displayed quality work to finish second with a score of 69.414%.
"He was really good in the trot work and the lateral work, overall. He was good and offered a lot. We just need to work on keeping it forward and keeping the impulsion throughout the whole ride," Syribeys said.
Callie Jones has had Don Philippo since mid-March, and he was green at the Young Rider level, but they have made great strides this competition season. She and the 2008 Hanoverian gelding put forth a respectable effort with good trot work. However, their canter work lacked uphill movement. They finished in third place on a score of 68.604%.
The  Junior Individual Test on Saturday will determine the National Champion.
Photos © Sue Stickle
Related Link
Scores 2016 U.S. Youth Riders Championships