Italian Dressage News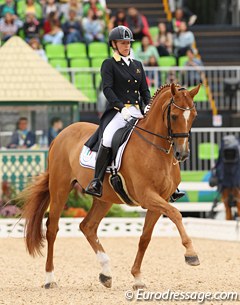 In a reaction to the on-going legal battle between Italian judge and trainer Enzo Truppa and the Italian Equestrian Federation (FISE), Truppa has announced that none of his students will be available for team selection in the 2017 competition year.
Enzo Truppa's legal issues followed the sale of his daughter Valentina's top Grand Prix horse Eremo del Castegno to Brazil. According to FISE it breached the contract Truppa had with the federation which secured the horse for Italy until the 2016 Olympic Games. Several lawsuits followed leading to Enzo's four month suspension from his FISE positions as chair of the Italian Judges committee and president of his local riding club. The suspension also barred him from traveling to the Rio Olympics where Valentina competed her second GP horse Chablis.
Via the online platform Tutto Dressage Enzo announced that "because of the hostile climate of this Italian Equestrian Federation leadership, Valentina is not anymore available for the Italian Team to qualifier for international championships." Truppa further added that, "in consequence to the lack of support from the Federation our team CEM Monferrato Equestrian Centre had to review its plans too. The first immediate consequence of this decision is that our riders will not be available for the Italian team at next year's European Championship."
Truppa's stable Monferrato Equestrian Centre in the Asti region in Italy is the base of several fixed Italian team riders, including Federica Scolari and Micol Rustignoli. Together with Valentina and Ester Soldi, who is also coached by Enzo, the quartet has made up the Italian team at numerous international Championships the past few years.
With the sale of Eremo del Castegno, Valentina has two more Grand Prix horses left, the 19-year old Chablis who did not give a fit impression at the Rio Olympics and the younger, upcoming Ranieri who has been plagued by injury this 2016 show season. Valentina's rising star is the 7-year old Sauvignon (by Scolari x Wolkenstein II). Federica Scolari's 18-year old Beldonwelt has not been competing since October 2015 because of injury and missed the entire 2016 show season so far. Micol Rustignoli's last show on the 17-year old Corallo Nero was in May 2016.
Truppa's decision to spare his riders from 2017 team selection will leave room for other eager Italian Grand Prix riders to get their time in the spotlight. Pia Laus-Schneider, Leonardo Tiozzo, Norma Paoli, Pierluigi Sangiorgi, Silvia Rizzo, Nausicaa Maroni,  and the upcoming Stefano Mantica are Italy's other internationally competing Grand Prix riders at the moment.
Valentina added that, "I am not retiring forever from competition but I take the time I need to train my new horses and for some time I will not compete internationally, just to make it clear to who wrote I am retiring from sport. I am looking forward to Tokyo 2020."
Photo © Astrid Appels
Related Links
Enzo Truppa Suspended with Immediate Effect, Not Allowed to Coach in Rio
Enzo Truppa Loses Appeal and Gets Suspended by FISE Federal Tribunal
Valentina Truppa Nominated as Italian Individual for 2016 Olympic Games
FISE Sues Truppa for the Sale of Eremo del Castegno
Valentina Truppa Severely Injured in Riding Accident