2016 Dutch Young Pony Championships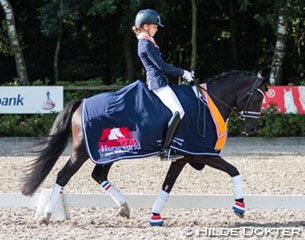 The 4-year old Oosterbroek Fenix, the 5-year old Odonker S and the 6-year old Turfhorst Pippin's Pride became the winners of the 2016 Dutch Young Pony Championships on Saturday 20 August 2016. The Dutch Young Pony Championships are the culmination after a series of national selection trials and they are held annually in Kootwijk, The Netherlands.
The finals of the Dutch Young Pony Championships are held at the National Welsh Pony Championships, bringing sport and breeding together. The judges were Monique Peutz and Arie Hamoen. Two rounds take place, a morning round in which the ponies are scored by the judges and a final round in which guest judge riders asses the quality of the gaits and potential of the ponies. This year the three guest judge riders were Jeanine Nieuwenhuis, Michelle van Lanen and Anne Meulendijks. The five best scoring ponies are test ridden by two guest judge riders.
Oosterbroek Fenix, 4-year old champion
In the 4-year old division it took a while before the winner was announced as initially the speaker said that Marten Luiten and the Welsh pony Goldwinhoeve's Valerion (by Valerio) claimed highest honour. After a recalculation of the points, the champion was Robin Heiden aboard the New Forest Pony Oosterbroek Fenix (by Orlando) by a margin of 1 point. It was a big surprise for the rider, who in the morning had fallen off her pony right before the first round.
"He thought it was all a bit scary," said Heiden afterwards. "Fortunately I was allowed to continue to ride but I never expected to win." Nieuwenhuis tested Fenix and said "he has much quality in all three gaits. I gave two tens today, one for Fenix who is a dream pony."
Odonker S Wins 5-year old Champion's Title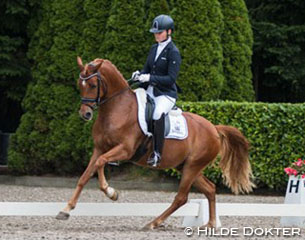 In the 5-year old division former Dutch pony team rider Demy Kurstjens and the German Riding Pony registered Odonker S (by High Flow's Oxford) claimed highest honour and won the title, while Anna Post and the Welsh pony bred Mini Hoeve's Elwin (by Cadlanvally's Golstar) were the reserve champions.
"Finally, said the 18-year old Demy Kurstjens after winning the title. This is her last year she's allowed to ride ponies due to her age. "I've been competing in the Dutch Young Pony Championships pretty much every year and I've always been second. Odonker S is a special pony. He's got talent, suppleness, power and the willingness to go." Guest judge Michelle van Lanen said that "Odonker is fine to ride, especially his canter is very good. He has much go, balance and ability to collect."
Judge Arie Hamoen added that the 5-year old division also had several really nice, smaller C-category ponies that reached the finals. "There were very nice 'little' ones who were active and had a good hind leg," said Hamoen.
Pippin's Pride Makes the Triple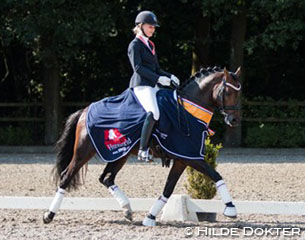 In the 6-year old division Kimberley Pap steereted the Welsh pony Turfhost Pippin's Pride (by Wengelo's Ricardo) to a triple. The pony is now three years in a row the Dutch Young Pony Championships with three national titles to his list of achievements. The dark bay Pippin's Pride has already been competing at international FEI pony level since this year and on a national level he reigned supreme.  The 16-year old Pap is in her last year on ponies, at least at international level, as on a national level in The Netherlands one can compete ponies up to the age of 18.
"Of course I had hoped it would work, but you never know beforehand," said Pap about winning the third title. "Pippin really showed himself and we won, for the third time in a row." Guest judge rider Anna Meulendijks explained that "I had also ridden him as a 4-year old and he has made enormous progress in two years. It's special that a young pony is so far advanced in his training. It was a pleasure to ride him."
Photos © Hilde Dokter - courtesy KNHS
Results - 2016 Dutch Young Pony Championships - Kootwijk
4-year olds
1. Odonker S (by High Flow's Oxford), DRP, Demy Kurstjens, 343
2. Mini Hoeve's Elwin (by Cadlanvally's Goldstar), NWPCS, Anna Post, 336
3. Jacodi's Maritza's Maison (by Jacodi's Bo's Barclay), NNFPS, Ilse Lindenschot, 332,5
4. Castenrayseweg's Dreamboy (by. Molenhorn's Lucky Boy), NWPC, Sam van der Kuijl, 321,5
5. Tongerenhof Amaris (by Wayland Loganberry), NNFPS, Larissa Hendriks, 317
5-year olds
1. Odonker S (by High Flow's Oxford), DRP, Demy Kurstjens, 343
2. Mini Hoeve's Elwin (by Cadlanvally's Goldstar), NWPCS, Anna Post, 336
3. Jacodi's Maritza's Maison (by Jacodi's Bo's Barclay), NNFPS, Ilse Lindenschot, 332,5
4. Castenrayseweg's Dreamboy (by Molenhorn's Lucky Boy), NWPC, Sam van der Kuijl, 321,5
5. Tongerenhof Amaris (byWayland Loganberry), NNFPS, Larissa Hendriks, 317
6-year olds
1. Turfhost Pippin's Pride (by Wengelo's Ricardo), NWPCS, Kimberley Pap, 361
2. Yellow Boy (byKlein Roderijs Cocktail), NWCPS, Nienke Wulff, 350
3. Cappuccino Royale (by Casino Royale), DRP, Mickey Schelstraete, 348
4. Kinetic Wizard (by Klein Roderijs Cockail), NNFPS, Holly Rawlins, 330
5. Casandro van de Somslag (by Woodrow Carlsbrooke), NNFPS, Bo Fijma, 325
Related Links
Dreamboy, Pippin's Pride, Den Ostriks Marah Win 2015 Dutch Young Pony Championships
Pippin's Pride, Den Ostrik's Marah, Morningsky Win 2014 Dutch Young Pony Championships
Don Ducky C-Two, Morning Sky, Boldermans Brasil Win 2013 Dutch Young Pony Championships
Roetsenest Enzo, Kielshoop Honeybee's Valentino, El Diego Win 2012 Dutch Young Pony Championships
Nero van den Hout, Tiesto and Hertenshof Nairobi Win 2011 Dutch Young Pony Championships
Tiesto, Heidehofs Don Diego, Champ of Class, 2010 Dutch Young Pony Champions
Heidehofs Don Diego, Guardian B and JDJ Keimpe Win 2009 Dutch Young Pony Championship