2016 Belgian Dressage Championships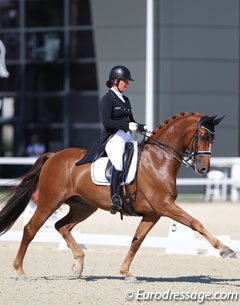 Pony rider Tahnee Meyssen, junior rider Lisa Morosini and young rider Sanne Kielenstijn became the winners of the 2016 Belgian Championships for Youth Riders held annuallly at the Flanders Dressage Event at Stable Hulsterlo in Meerdonk, Belgium, on 5 - 7 August 2016. Suprisingly this year a Grand Prix championship did not take place at this event, even though Belgium has only one sole representative in Rio.
"The Belgian federation does not allow that a Belgian Championships is organized in an Olympic year and during the same period of preparation for the Olympics," FDE show organizer Thomas Eyckmans explained Eurodressage. "That is why we were forced to organize a separate Belgian Grand Prix Championships on 11 - 13 November."
The pony division served as perfect preparatory event for the 2016 European Pony Championships which would take place two weeks later in Denmark. The four selected team riders were joined by 8 other Belgian competitors in Hulsterlo. Tahnee Meyssen and Matcho D van Prinsenhof's (by Kulbergs Lancelot x Diogenes Kay) were strong all three rounds. The student of Belgian Rio representative Jorinde Verwimp, scored 70.436% in the team test, 71.000% in the individual and 73.075% in the Kur to Music. With a total of 214.511% she was almost 6% ahead of the competition. The silver medal went Yana Rynders on Enzo Leco (by Eindershof Jamai x Mischaz) who is in her final year on ponies. She was second twice and first once with 68.00%, 68.707% and 72.100% (total 208.807%). Demi van Broeck and Caspar W (by Campari W x Desperado) secured the bronze with 66.692%, 65.707% and 701.00% (202.499).
In the junior rider division newcomer the Arlon based Lisa Morosini made a splash aboard Alexandra Barbançon's former Young Riders horse Webbe (by Jazz). The brand new pair rode itself clearly in the picture by topping the board in all three rounds. The scores in the team championship were quite low and Morosini aced the test with 66.568%. She topped that off with a 70.263% in the individual and 72.275% in the Kur to total 209.106%. Lisa had Belgian team rider Laura Luyten on her heels. Aboard Dark Chocolate (by Damon Hill x Florestan)  the pair scored 65.189%, 70.053% and 72.000% to finish on 207.242 points. Aurelie van der Voort and Don Domingo (by Webster x Jetset D) were good for bronze with 64.730%, 68.026% and 69.425% (202.181 pts). Belgian junior team member Numa Verberne was remarkably absent from the Nationals.
"I've only been riding Webbe since February and only since a month or two everything is coming together and we really became a combination," Morosini explained. "We started at the Belgian Championships with no expectations so that we won't all three tests and the Belgian Championships is truly great."
In the Young Riders division it became a battle between the two Belgian team riders Sanne Kielenstijn and Charlotte Defalque who both contest the Kur to Music finals at the 2016 European Young Riders Championships in Oliva Nova, Spain, in July. Kielenstijn crossed the finish line first at the Belgian Championships and claimed the national title with her Dutch warmblood Air Miles PB (by Turbo Magic x OO Seven). She won the team test with 70.632%, was second in the individual with 69.974% and won the freestyle with 72.000% to total 212.606 points for gold. Defalque and Botticelli (by Vivaldi x Koss) began a bit slower in the team test with 66.579%, but won the individual with 71.526% and was third in the Kur with 70.325%, to finish with silver on 208.430 points. Jamina Gijsels and Zico (by Sir Sinclair x Homme d'Amour) were good for bronze with 67.395%, 69.053% and 69.050% (205.498 pts).
"Wow, I'm truly happy," said Kielenstijn. "After the Europeans in Oliva Nova we took it a bit easier, but to score 70.632% in the team test is great. It is our new personal record."
Photo © Astrid Appels
Results - 2016 Belgian Youth Riders Championships
Pony Riders
Pl - Rider - Horse - Team Test - Individual - Kur  ---- Total
1. Meyssen Tahnee - Matcho D van Prinsenhof's - 70,436 - 71,000 - 73,075 - ---- 214,511
2. Rynders Yana - Enzo Leco - 68,000 - 68,707 - 72,100 ----- 208,807
3. Van Broeck Demi - Caspar w - 66,692 - 65,707 - 70,100  ---- 202,499
4. Evers Leen - First Lady Van Prinsenhof S - 66,718 - 66,732 - 66,625  ---- 200,075
5. Van Nespen Marieke - Schermeer S Hof Aladin - 66,949 - 66,756 - 64,975  --- 198,680
6. Pauwels Carolien - D Waldfee - 63,795 - 64,244 - 67,625  195,664
7. smalle esta - Dollar - 62,962 - 65,000 - 67,150  ---- 195,112
8. Wouters Tess - Hendi's Bolero - 65,128 - 63,122 - 66,600  ---- 194,850
9. Van Sinay Caro - Ald Feart's Armando - 62,205 - 64,024 - 63,475 ---- 189,704
10. Stevens Jinke - Concierge - 62,410 - 62,293 - 64,100 ---- 188,803
11. Desmedt Maité - Northern Dancer - 62,949 - 59,756 - 64,700  ---- 187,405
12. Van Nespen Marieke - Veenstra s Benton - 66,667 - 66,878 - 65,575 ---- 199,120
Junior Riders
1. Morosini Lisa -  Webbe - 66,568 - 70,263 - 72,275 ---- 209,106
2. Luyten Laura - Dark Chocolate - 65,189 - 70,053 - 72,000 ---- 207,242
3. Van Der Voort Aurelie - Don Domingo - 64,730 - 68,026 - 69,425 ---- 202,181
4. Beck Delphine - Zelion B - 65,027 - 66,895 - 69,700 ---- 201,622
5. Heidbuchel Amber - Ibanos du Miramar - 63,297 - 66,816 - 66,300 ---- 196,413
6. De Schepper Dente - Emaico - 64,541 - 66,263 - 65,475 ---- 196,279
7. Van Santvliet Lore - Cacharelle - 63,486 - 65,447 - 66,775 ---- 195,708
8. Morosini Marie - Divaldi - 63,189 - 64,342 - 64,925 ---- 192,456
9. Van De Velde Jozefien - Compris vd Stuyver - 61,622 - 63,684 - 66,325 ---- 191,631
10. Sanders Nathalie - Laniro Z - 63,622 - 62,632 - 64,475 ---- 190,729
11. Geuens Alicia - Astria - 59,243 - 62,553 - 61,525 ---- 183,321
12. Heidbuchel Amber - Wachenheim - 62,676 - 66,105 - 65,375 ---- 194,156
13. Wiggins Kate - Corona - 59,486 - 64,632 - 0 - --- 124,118
Young Riders
1. Kielenstijn Sanne - Air Miles PB - 70.632 - 69.974 - 72.000 ---- 212.606
2. Defalque Charlotte - Botticelli - 66.579 - 71.526 - 70.325 ---- 208.430
3. Gysels Jamina - Zico - 67.395 - 69.053 - 69.050 ---- 205.498
4. Van Dyck Dries - Weltmiro JH Z - 67.237 - 67.184 - 70.800 ---- 205.221
5. Arl Antonia - Equestricons Duke de Niro- 66.474 - 67.105 - 66.825 ---- 200.404
6. Janssens Axelle - Precious Black van de Heernis - 63.711 - 66.105 - 68.450 ---- 198.266
7. De Causmaecker Charlotte - Why Not M - 63.632 - 66.868 - 67.200 ---- 197.700
8. Bervoets Denis - Coldplay -  64.816 - 65.237 - 66.675 ---- 196.728
9. De Vos Flore - Catcher - 63.553 - 67.053 - 64.200 --- 194.806
10. Koninx Julie - Avanti - 62.079 - 63.500 - 64.450 ---- 190.029
Related Links
De Schepper, Verberne, Kielenstijn, Devroe Win 2015 Belgian Dressage Championships
Antonia Arl Succeeds Sister and Wins 2014 Belgian Pony Championships
Verberne, Verwimp and Vanommeslaghe Win 2014 Belgian Dressage Championships
Arl, Defalque, Verwimp, Missiaen Win 2013 Belgian Dressage Championships
Arl, Verwimp, Waelkens, Devroe Win 2012 Belgian Dressage Championships
Jeroen Devroe Prevails at 2011 Belgian Dressage Championships
Jeroen Devroe Captures Sixth Belgian Grand Prix Champion's Title
Goris, Mommen, D'Hoore and Devroe 2009 Belgian Champions
Van Olst, Mommen, Vandenberghe Win 2008 Belgian Youth Riders Championships
Stefan van Ingelgem, 2008 Belgian Dressage Champion
Van Olst, Mommen, De Souter, De Deken and Devroe, 2007 Belgian Dressage Champions
Arlette Holsters and Faible Win 1998 Belgian Dressage Championships
Meiresonne, Pauluis, Smits, 1997 Belgian Youth Riders Champions