2016 Olympic Games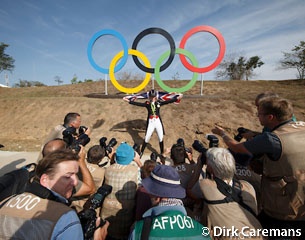 At the end of freestyle day at the 2016 Olympic Games, Charlotte Dujardin shared an emotional note with her fans on Facebook thanking Valegro and her team for the incredible journey they have had together, which led to triple Olympic gold and one silver, alongside being European, World and World Cup champion and holding all three world records.
"Someone once said the phrase to me, you only live once, but if you do it right, once is enough. I could not begin to imagine when I saw this horse at Carls speeding down the long side with his huge powerful canter that not only would I have had the opportunity to train him and have the ride, that our friendship and bond would have grown to what it has and that we would achieve all that we have. He is simply my best friend, a horse that gives me his heart and soul every time and reduces me to tears when he does. He has always seems to know what I'm thinking when I ride and has tried so hard over the years to do his best for me and never more so than today."
"I'm not sure I'm going to finish this post as the tears are building up again as I type. Carl, I can't put into words how grateful I am for everything you have done, as a trainer and as my friend. You were amazing today and I am proud to have worked with you for all of these years. The Lottery, UK Sport, World Class, Team GB, British Dressage, BEF, and all the governing bodies and schemes that help us riders achieve all this, I am so grateful. It takes a huge team. Thank you to Jon Stroud for half of these lovely pictures - I will treasure them. My family, Alan, Ian, Roly, Anne, Richard Waygood, the team on the yard, my management team and every single person who helps make this possible for me, thank you thank you thank you. I know you were all watching at home x"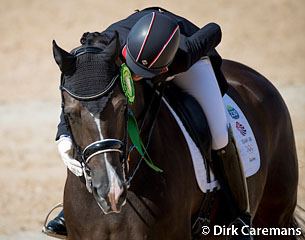 "And lastly, thank you to all who follow and support me through this wall, at shows and in person and know that your support, comments and words have always encouraged me every step of the way. To every little girl or boy reading this who dreams of achieving more with their ponies and horses they love; whether that's winning a prelim test, an elementary or those working right the way through; believe you can achieve anything you set your heart on because anything is possible, as this wonder horse with the heart of gold has shown us all. This is a brilliant sport and I'm so proud to be a part of it. Thank you again to everyone. The celebrations will be going on into the night I think xx"
Photos © Dirk Caremans
Related Links
Eurodressage Coverage of the 2016 Olympic Games