2016 Olympic Games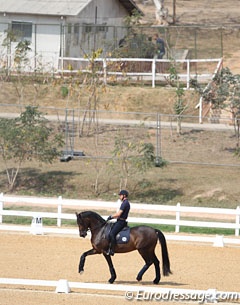 On Tuesday 9 August the finals and third phase of Olympic eventing took centre stage at the Deodoro equestrian park in Rio de Janeiro, Brazil. For the dressage riders it meant their final preparation day before the Team Championship competition kicks off with the Grand Prix on Wednedsday 9 August 2016.
Eurodressage photographed the riders training their horses in the outdoor arena. While some were putting a bit more pressure on their mounts and getting them a bit more sharp and ready, others preferred relaxed warm up sesssions gymnasticising the horses.
The warm up that I witnessed was pretty much exemplary. The stewards were very present in the arena and watching all the riders. There was little pulling and spur stabbing and those who are known to have a poor contact with the bridle had a steward circling the arena like a vulture, preventing the riders by proxy from over-asking their horses here at the Games. The stewards certainly deserve credit for doing their jobs.
Enjoy this selection of photos that Eurodressage took on the final preparatory day before the Games truly begin for dressage!
Photos © Astrid Appels
Related Links
Eurodressage Coverage of the 2016 Olympic Games