2016 Olympic Games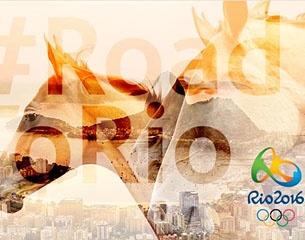 From the data I have analysed over many years I can make some quite detailed predictions, particularly at the team level. However I don't want to undermine the anticipation so I'm not going to do that, but instead I concentrate on the possibilities, on the close races, on the excitement of the sport and how individual riders can really boost their teams scores and medal possibilities. Eurodressage does have the team medal and Special Qualification predictions – but not for publication before the event.
From a numbers point of view this is a very exciting Olympics. It's the first really big competition in recent history where we can't be fairly sure of the medal winners. Germany is clearly favourite for Team Gold, they have three riders that that have been performing at 80%+ recently and nobody else has anything like that. But If the British riders all perform at their best then they could squeeze past Germany into Gold Position. The Netherlands are best placed for Bronze but USA is very close behind them and if they can pull of their best scores then USA can take Bronze. But Spain and Sweden are almost on a level pegging with the USA and could challenge for fourth place and will surely be aiming for that medal slot too! Not to mention of course that GBR leans very heavily on Charlotte Dujardin and Valegro - any problem there would put them back in the pot with USA, ESP and SWE fighting for Bronze.
This is illustrated in this figure, where the predicted team scores after the first round Grand Prix are shown. The red bars show the range of uncertainty in the prediction combining the uncertainties in the various team members predicted scores.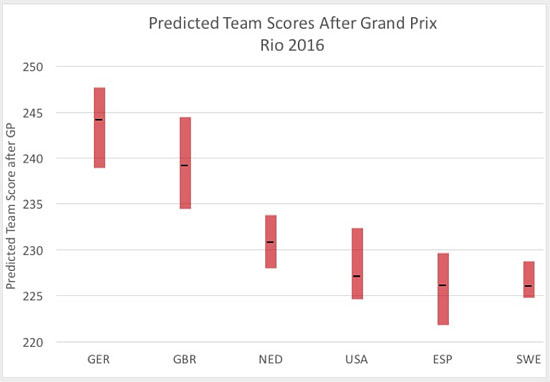 The top 6 teams after the Grand Prix go to the Special along with the top 8 riders not qualified by team. But Denmark, made up by a composite team, is sitting in 7th place and stands a good chance of qualifying 3 individuals for the Special.
These predictions are based on the GP and GPS trends of these riders in all CDIs in 2015 and 2016. Its interesting to look at some of those top riders, the exciting thing is that 5 of the top 7 riders (In my prediction) are on steeply improving trends! The most spectacular is Isabell Werth and WEIHEGOLD. The figure shows their GP and GPS history up to Aachen together with the trend line and the predicted GP score of 82.2%. The "error bars" show the spread in score between the judges. It is however quite possible that they could go over 83% - Charlotte scored 83.28% at the recent Hartpury show, while Isabell scored 83.27% in Aachen, you can't get much closer than that.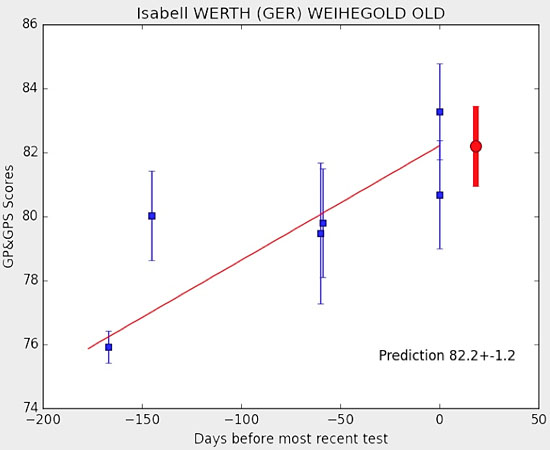 Kristina Brohring-Sprehe and Desperados perform show after show at a steady 82.4% but the next two riders Dorothee Schneider with SHOWTIME and Beatriz Ferrer-Salat with Delgado are also on steeply rising trajectories, perhaps their stars will shine in Rio?
Showtime could easily go above 80% and if Delgado carries on upwards then they could be above 80% also. Finally, one to watch will be Fiona Bigwood and Atterupgaards Orthilia, again on a steep rise, they shone in Saumur and it will be exciting to see if they can outdo themselves in Rio and break the 80% barrier, if they can then perhaps GBR can squeeze past GER and take Gold again.
The Netherlands has a solid 77% team while USA is safe at 76%. But on their European tour the American riders have hit some new highs, they could all hit 77% or above and then we may see a new nation on the podium in 2016.
All in all, there are some very close competitions, too close to call really, and some riders on steeply rising trends who might bring it all together in Rio to permute the medals in unexpected ways. It will be exciting and great sport for the #manyhearts that will be following the #twohearts on broadcasts around the world from Wednesday to Monday!
By David Stickland / Global Dressage Analytics - Photo © Astrid Appels