2016 Olympic Games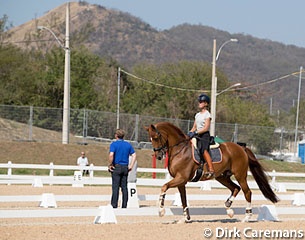 With new rules and formats instated at every single Olympics for the past three editions, riders and spectators get more and more confused about each current system in place for the draw and order of go. This was not only for the FEI Nations Cup series, which had different formats at different legs this year, but also for the 2016 Games. Dutch 2012 Olympic silver medalist Adelinde Cornelissen chimed in on the confusion about the Olympic Grand Prix draw.
"I still don't know if Holland will be part of the top five countries in the draw," Cornelissen told equestrian magazine De Hoefslag. "We were talking about it yesterday. It depends on which ranking they are going to use. Nothing has been published about a nations' ranking. If you look at the World Ranking List combinations such as Edward with Voice, HP with Johnson and I on Parzival are not ranked very highly."
The FEI has made brand new draw rules for the 2016 Games making the system more confusing each time to accommodate the wishes of television stations, who never broadcast dressage in full anyway, but select snippets of their country's riders.
For the 2020 Olympics in Tokyo a new and improved format is on the table going back to a more interesting format with teams of three, similar to London 2012.
For the 2016 Olympic Games the following format was set up for the Grand Prix draw:

The Netherlands is the only country so far which has officially disclosed their team's starting order. Cornelissen will be first to go, followed by Edward Gal. Diederik van Silfhout and Hans Peter Minderhoud will ride in the second group of the Grand Prix on Thursday.
French team trainer Jan Bemelmans told Eurodressage that for France the order will be Ludovic Henry, Stephanie Brieussel, Pierre Volla and Karen Tebar. U.S. team trainer Robert Dover told Eurodressage that the American order will be until after the draw. 
The draw for the Grand Prix will take place after the horse inspection on Monday afternoon 8 August 2016. The first group of Grand Prix riders go on Wednesday 10 August 2016.
Photos © Dirk Caremans - check out his impressive photo collection on www.hippofoto.be
Related Link
Eurodressage Coverage of the 2016 Olympic Games