Italian Dressage News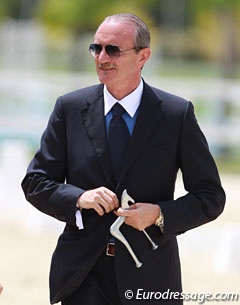 Enzo Truppa will not be allowed to coach his daughter at the 2016 Rio Olympic Games. The FISE Appeals Committee has partially revised the decision of the Federal tribunal and suspended the trainer for four months effective immediately.
The Italian Equestrian Federation (FISE) suspended Enzo Truppa from all his FISE positions as chair of the Italian Judges committee and president of his local riding club for selling his horse Eremo del Castegno in December 2015. FISE started a legal procedure against the judge and trainer as he had broken a sponsorship contract which he had with FISE to secure Eremo for Valentina until the 2016 Rio Olympics.
Truppa appealed the suspension but the Federal Tribunal decided to maintain a suspension for four months, yet starting 1 September 2016. The Tribunal also ordered Enzo to pay a fine of 10,000 euro.
In a most recent move in the legal procedure the FISE Appeals Committee has now partially revised the decision of the Federal tribunal and decided on an immediate suspension.
The highly popular Italian sports publication Gazzetta Dello Sport, which normally totally disregards equestrian sport and certainly dressage, published the news and stated that "at the heart of the matter" is "Valentina's horse Eremo del Castegno, subject of a contract with the Federation prohibiting his sale prior to Rio."
The actual lawsuit, whether there is a breach of contract with FISE or not, still has to take place.
Related Links
Enzo Truppa Loses Appeal and Gets Suspended by FISE Federal Tribunal
FISE Sues Truppa for the Sale of Eremo del Castegno