2016 Olympic Games
Tomorrow Friday 5 August the 2016 Olympic Games will kick off with a spectacular opening ceremony in Rio de Janeiro, Brazil. For equestrian sport the Games beging with eventing, followed by dressage and then show jumping. The eventing and dressage riders and their horses have all arrived at the Deodoro equestrian venue located 40 minutes north west of Rio's international airport.
The dressage horses flew from Liege airport in Belgium on 1 August 2016 and after an 11-hour flight were transported by police convoy to the Deodoro show grounds. The majority of the riders flew from either Amsterdam or London via Madrid or Lisbon to Brazil. American based trainers and staff went via Miami and experienced quite a hassle there with all flights to Rio fully booked.
The riders had to do their mandatory press conference at the Main Press Centre where they were exposed to tv and print media journalists who have no clue about the sport. Swiss Marcela Krinke-Susmelj was interviewed on the beach along with her Swiss eventing colleagues.
All dressage horses have settled in well and are enjoying their spacious stalls. The main show arena is super impressive and so far there has been no criticism on the facilities with everything being up to standard and as good as at the 2012 London Games.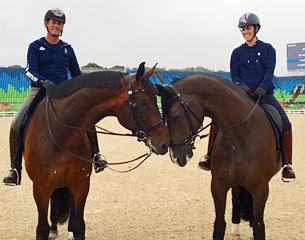 "I'm really happy to be back on Blueberry after his long flight to Rio as we familiarised ourselves with the arena and had a good old canter around," said defending Olympic champion Charlotte Dujardin. "Blueberry and Barney congratulated each other at the end for being such good boys!"
"Super Nova has taken everything in his stride," said British team newbie Spencer Wilton. "The arena is superb. Weather is perfect. Everyone is very friendly and we've all been made to feel very welcome."
"The horses are all in great shape and our stables are outstanding," said Australian team member Mary Hanna. 
Danish team new comer Cathrine Dufour sat on the plane next to Danish handball player Mikkel Hansen. "I had the pleasure to sit next to Mikkel Hansen. Maybe we're gonna see him at the dressage stadium? For sure we'll be cheering for the Danish Handball Team all the way towards a gold medal," she wrote.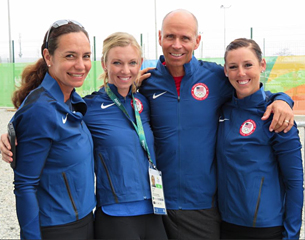 U.S. team trainer Robert Dover also chimed in: "Our U.S. Team had a super training session today and really happy with each of them. Very classy!!! Tomorrow morning we ride from 9:15am to 10:15am and then get ready to march in the Opening Ceremonies! Only our Dressage Team will get to march since the 3-day riders compete the next morning and the Jumpers are not yet here."
Dressage starts on Wednesday 10 August with the first group of Grand Prix riders. The second group rides on Thursday 11 August. There is a day off on 12 August, followed by the Grand Prix Special on Saturday 13 August and the Kur to Music on Sunday 14 August.
Eurodressage will arrive on the scene in Rio on Monday 8 August. We will be blogging live and of course be patient our renowned "show reports" with tons of photos as soon as the competition starts.
Related Link
Eurodressage Coverage of the 2016 Olympic Games