Hanoverian Breeding News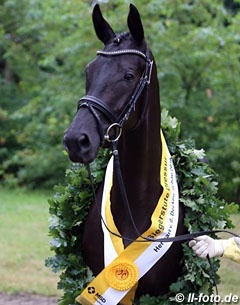 Black Baccara K has been named the champion of the 2016 Hanoverian Elite Mare Show in Verden, Germany. The Elite Mare show is also known as the Herwart von der Decken-Show and it features the best 3-year-old Hanoverian mares.
Hann.Pr.A. German Girl was named best show jumping mare. Hann.Pr.A. Black Baccara K  was decorated with the oak wreath in the division of dressage mares before accomplishing her lap of honour.
"I had already judge at the first Herwart v. d. Decken-Show in 2007. It was impressive to see how the breed has further advanced," said Dr. Matthias Görbert, Moritzburg. He judged the 65 mares together with Konrad Böth from Niederwalgern, member of the Board, and Breeding and Business Manager Dr. Werner Schade.
The impressive trot of Black Baccara K (by Bon Bravour x Rosario - breeder and exhibitor: Katrin Lüder-Kratzberg, Hildesheim) was already rewarded with applause during the presentation on the triangle. The black mare outshone her competitors and was nominated Champion dressage mare. Her title came as no surprise as the black beauty had already won the 2016 German Mare Championship in Lienen which took place three weeks ago.
"She convinced not only with her gaits, but also with her composure and overall view," said Dr. Matthias Görbert.
The eagerly moving Suri (by San Amour x Fürst Heinrich - breeder: Bernd Volbers, Beesten – exhibitor: Heinrich Gießelmann, Barver) became Reserve Champion.
"The Hanoverian dressage horse breed has always been in a leading and trend-setting position with its solid damlines!"
          
Leny B (by Lauries Crusador xx x Donnerhall - breeder: Heinz-Hermann Leismann, Tecklenburg – exhibitor: Insa Borchers, Rastede) was nominated best halfbred mare of the Herwart von der Decken-Show.
 
Results - 2016 Hanoverian Elite Mare Show - Verden
Champion: No. 27 Hann.Pr.A Black Baccara K by Bon Bravour - Rosario, o.: Katrin Lüder-Kratzberg, Hildesheim
Reserve Champion: No.  61 Hann.Pr.A Suri by San Amour I - Fürst Heinrich, o.: Heinrich Giesselmann, Barver

1. Division Dressage Mares
1a No. 27 Hann.Pr.A Black Baccara K by Bon Bravour - Rosario, o.: Katrin Lüder-Kratzberg, Hildesheim
1b No. 29 Hann.Pr.A Diamante M by Dancier - His Highness, o.: Peter Mahler, Neuhaus
1c No. 21 Hann.Pr.A Beiyani by Benicio - San Amour I, o.: Heinrich Giesselmann, Barver
1d No. 25 Hann.Pr.A Bonita by Bon Bravour - Brentano II, o.: Siegfried Scharf, Bochum
1e No. 26 Hann.Pr.A Bonny Royal by Bon Bravour - Rubin-Royal, o.: Heinrich Ramsbrock, Menslage
1f No. 20 Hann.Pr.A Ananda by Apache - Fidermark, o.: Johannes Baumeister, Kranenburg
1g No. 23 Hann.Pr.A Brasilia by Benicio - Laur.Crusador xx, o.: Eibe Icken, Dorum
1h No. 24 Hann.Pr.A Be my Love by Benicio - Stedinger, o.: Michael Siekiera, Brühl
1i No. 28 Hann.Pr.A Doris Day Ra by Damsey - Don Marco, o.: Peter Hermann Rabeler, Winsen
2. Division Dressage Mares
1a No. 30 Hann.Pr.A Destano's Wolke JM by Destano - Wolkentanz, o.: Johann Martens,Uplengen
1b No. 32 Hann.Pr.A Die Beste by Don Frederic - Sir Donnerhall, o.: Julia u. Tim Karrasch,Langenhagen
1c No. 34 Hann.Pr.A Debby by Don Index - Belissimo M, o.: Gestüt Letter Berg,Coesfeld
1d No. 38 Hann.Pr.A Fiera d.C. by First Selection - Sir Donnerhall, o.: ZG Kellerwessel,Köln
1e No. 31 Hann.Pr.A Dascha by Don Frederic - Rotspon, o.: Heinrich Aarnink,Nordhorn
1f No. 33 Hann.Pr.A De Versaille by Don Frederico - Margue H, o.: Lynne Crowden u. Rita Johnson,GBR
1g No. 36 Hann.Pr.A Don Schufros I Märchen Dree Boeken by Don Schufro - Laur.Crusador xx, o.: Zuchthof Dree Boeken KG,Prieros
1h No. 37 Hann.Pr.A Dayna by Dubarry - Weltmeyer, o.: ZG Brakenhoff,Uelzen
1i No. 39 Hann.Pr.A Fantastic Lady II by Florencio I - Sandro Hit, o.: Rolf-Peter Schulze,Hoitlingen
1j No. 35 Hann.Pr.A Darina by Don Index - Fürst Romancier, o.: Jörn Wedermann,Wangerland
3. Division Dressage Mares
1a No. 48 Hann.Pr.A Fantasy by Fürstenball - Wolkentanz II, o.: Johannes Westendarp, Wallenhorst
1b No. 44 Hann.Pr.A Fürstin P by Fürst Piccolo - Rotspon, o.: Heinz-Walter Pferdmenges, Jüchen
1c No. 47 Hann.Pr.A Fabienne by Fürstenball - Diamond Hit, o.: Dr. Jutta Steidl, Eichstätt
1d No. 43 Hann.Pr.A Flore M by Foundation - Weltmeyer, o.: Klaus Michaelis, Basdahl
1e No. 46 Hann.Pr.A Favorica by Fürstenball - Sir Donnerhall, o.: Bernhard Sieverding, Twistringen
1f No. 42 Hann.Pr.A Feine Liebe by Foundation - Weltmeyer, o.: Klaus Michaelis, Basdahl
1g No. 49 Hann.Pr.A Fleur de Èvian TM by Fürstenball - Prestige Pilot, o.: Thomas Müller, Straßlach-Dingharting
1h No. 41 Hann.Pr.A Fabienne by Foundation - Weltmeyer, o.: Herbert Kruse, Hamburg
1i No. 40 Hann.Pr.A Finea Sunshine K by For Romance - Swarovski, o.: Cornelia Keiper, Hochdorf
1j No. 45 Hann.Pr.A First Lady by Fürstenball - Sir Donnerhall, o.: Enrico Messelis, Kefferhausen

4. Division Dressage Mares
1a No. 54 Hann.Pr.A Love Parade by Londontime - Regazzoni, o.: Johannes zur Lage, Bersenbrück
1b No. 52 Hann.Pr.A Londoncrown by Londontime - San Amour I, o.: Erika Bünger, Oetzen
1c No. 58 Hann.Pr.A Quantanamera by Quaterhall - Davignon, o.: Christian-Wilhelm Ohse, Königslutter
1d No. 57 Hann.Pr.A Que Belle by Quasar de Charry - Rousseau, o.: Ingo Pape, Hemmoor
1e No. 51 Hann.Pr.A Laeticia by Lemony's Nicket - Sandro Hit, o.: Harmony Sporthorses u. Ingo Pape, Hemmoor
1f No. 50 Hann.Pr.A Leny B by Laur.Crusador xx - Donnerhall, o.: Insa Borchers, Rastede
1g No. 53 Hann.Pr.A Landfein by Londontime - Weltmeyer, o.: ZG Peinemann, Soltau
1h No. 56 Hann.Pr.A Morgenröte by Münchhausen - De Niro, o.: Beate Conle-Hüttner, Krefeld
1i No. 59 Hann.Pr.A Queeny B by Quaterhall - Londonderry, o.: Henning Bruns, Celle

5. Division Dressage Mares
1a No.  61 Hann.Pr.A Suri by San Amour I - Fürst Heinrich, o.: Heinrich Giesselmann, Barver
1b No.  68 Hann.Pr.A Viva La Vida by Vitalis - Fidermark, o.: Gestüt Hülsdau, Marl
1c No.  62 Hann.Pr.A Sangria by Scolari - Falsterbo, o.: Ingo Pape, Hemmoor
1d No.  60 Hann.Pr.A Ruby Tuesday by Royal Classic - Don Frederico, o.: Hans-Dieter Tüpker, Wester-kappeln
1e No.  64 Hann.Pr.A Soraya by Spörcken - Don Frederico, o.: Regina Kathmann, Winsen
1f No.  63 Hann.Pr.A Safira by Spörcken - Hohenstein, o.: Annette und Detlef Schelhas, Lage
1g No.  67 Hann.Pr.A Vita La Diva by Vitalis - Fidermark, o.: ZG Böttenberg, Meerbusch
1h No.  65 Hann.Pr.A Susi Sonnenschein by Spörcken - Escudo, o.: Ilse-Dorothee Hagemann, Parsau
1i No.  66 Hann.Pr.A Schatzi by Surprice - Wolkentanz, o.: Monika Ahlers, Grethem
1j No.  69 Hann.Pr.A Wandermärchen Dree Boeken by Wynton - Werther, o.: Zuchthof Dree Boeken KG, Prieros
1k No.  70 Hann.Pr.A Wynona G by Wynton - Belissimo M, o.: Helene Geervliet, DK
Related Links
Bonita Spring Named Champion of the 2015 Hanoverian Elite Mare Show
Fine Lady, Champion of the 2014 Hanoverian Elite Mare Show
Lizeth Wins Prestigious 2013 Herwart von der Decken Prize
Liliefee Named Champion of the 2012 Hanoverian Elite Mare Show
Delany, Champion of the 2011 Hanoverian Elite Mare Show