2016 North American Junior/Young Riders Championships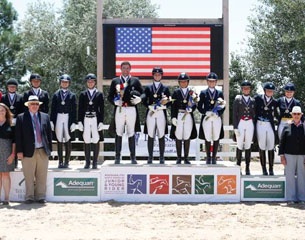 U.S. Region 1 won team gold while Jacqueline Brooks' student Nicholas Hansen captured individual test as well as kur to music gold aboard Ritter Benno at the 2016 North American Young Riders Championships, which returned to the Colorado Horse Parks in Parker, CO, U.S.A, on 28 - 31 July 2016.
U.S. Region 1 Wins Team Gold
The Region 1 Young Riders took to the top podium, earning the Gold medal, while the combined team from Canada, composed of riders from Ontario, Manitoba, and Alberta, took the Silver medal. The team of three individuals representing Region 4/5/7 for the U.S. received the Bronze medal

The Young Rider division saw the Gold and Silver medal positions only separated by a slim margin as the Region 1 team earned a total score of 200.605 and the combined Canadian team totaled 200.210 to end the competition. The Bronze medal team, composed of riders from Regions 4/5/7, finished with a total score of 196.421.

Nicholas Hansen of Catawissa, Pa., and his mount Ritter Benno, earned the highest score of the class and anchored the Region 1 team with score of 72.263%. Hansen, who is competing at NAJYRC for the third time in his career, commented on the importance and impact of the competition, as well as how it has molded him as a rider.

"I think that this competition is invaluable. When you have an opportunity to compete against people who are riding at your level, but then have a chance to ride against people from different countries at the same time, you form bonds that you have for the rest of your life," said Hansen. "To have the ability to say that you went to NAJYRC, and when you're able to put that on your resume, I think that's something not many people are able to do and it's a huge accomplishment."

"It's great to be here and the connections you make with the other riders are so important. This experience is priceless," added teammate Chambers, who piloted Urithmic to a score of 64.474%.

Allyn Mann of Adequan® with the Gold medal-winning Region 1 team from the U.S., including Nicholas Hansen, Elizabeth Bortuzzo, Mallory Chambers, and Lian Wolfe (SusanJStickle.com)

The Gold medal-winning team of Region 1 earned their total score of 200.605 in part to the solid and consistent riding displayed by each of the four members

Canada's combined team featuring riders from Ontario, Manitoba, and Alberta, collected the Silver Medal for the Young Riders Team division with a total score of 200.210:

"I think the special part of this competition is that you have fun and that's my goal," said Ferguson. "That is what makes this show so unique. It's about setting goals, having fun, but also having positive experiences in the ring and that's what's so special about this competition."

"We really want to keep this good vibe going with good rides. I think each of us want to have a clean test and that in itself is so worth it at this competition," commented Forde, when discussing her ride this afternoon aboard File Della Caccia and what she's looking forward to for the remainder of the week.

The Bronze medal team combined three horse and rider combinations representing three different states including California, Kansas, and Colorado. The team featured two riders who have previously competed at NAJYRC, and one rider who is competing for the first time at the competition. Each of the three riders were proud to represent their own respective regions in a combined team setting, scoring well throughout the morning and ending the day thrilled with their podium debut.

The Bronze medal team earned a total score of 196.421 for their efforts on the first day of competition.
"It's been a really fun experience to now have a team and actually be able to bond with our combination region. It's really wonderful and it's something that we don't have in any other aspect of the sport at this level," explained Harrison. "It's really helpful to and encouraging to be on a team with people who support you and want you to do well."
Nicholas Hansen and Ritter Benno Take Gold in Young Rider Individual Test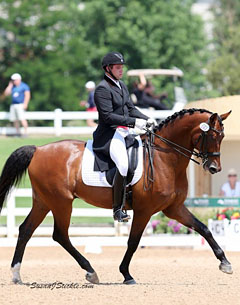 Nicholas Hansen (21, Catawissa, Pa.) of Region 1 has had a spectacular week at CHP, piloting his mount Ritter Benno to the two highest scores seen so far this week in the USDF North American Junior & Young Rider Dressage Championships Young Rider classes. In the individual test, the pair earned a 72.502% to take the gold medal, while Rachel Robinson (21, Orlando, Fla.) of Region 3 guided Indira to a Silver-medal finish, receiving an overall score of 68.921%. Hometown competitors Lexy Donaldson (18, Littleton, Colo.) of Region 5 and Power Play rounded out the top-three finishers, collecting the Bronze medal with a score of 68.053%.
Hansen and Ritter Benno have taken the week by storm, first anchoring Region 1 in the Young Rider Team Test, in which they earned the Gold medal, as well as rocketing to the top of the leaderboard in the FEI Young Rider Individual Test. The 2001 Westphalian gelding has proved to be worth his own weight in gold this week, helping Hansen to achieve his dream of standing atop the podium at the NAJYRC.

"It honestly hasn't really sunk in yet. For us to be at the very top for the second time this week, it just doesn't feel real. It's something that I think I can speak on behalf of almost all riders that are here; this is something that takes so much work," commented Hansen. "I just can't thank everyone enough who has helped me get here but I also can't thank the horse enough. If he were a human, he would give the best hugs," smiled Hansen, when describing the personality and traits of Ritter Benno. "Honestly, he's the happiest horse who always tries 100% ever single day and never gives up. It's a pleasure and an honor to be able to ride him."

The pair have had a tumultuous go over the past four years, as Ritter Benno was given a poor diagnosis on his potential return to top competition after sustaining a serious injury. Hansen, not willing to give up on his dreams, rehabilitated Ritter Benno, navigating him back through the ranks of dressage and ultimately guiding him to their two Gold medals this week.

"Being able to put him slowly back into work, have him actually feel better than before he went lame, and get here after being told that your horse probably won't be able to work again is something that is amazing," he explained. "It honestly is. I would like to thank the vets who did what they did to get the horse to where he is now. My horse, in particular, has such a big heart and is such a hard worker. He's just such a happy horse."

The pair excelled in their trot work, scoring above the expectations of Hansen, although he anticipated improvement as it is what the pair have been focusing on in the months leading up to the event. He commented, "My favorite part of the ride today was the trot work. It's something we've really been working on over the last couple of months and it felt really great to be able to sit the trot and have it be so adjustable."

The three riders discussed the different mentality needed to switch from a team competition atmosphere back to an individual one, as they now turn their focus to the final class of the week in the Young Rider Freestyle.

"I was really happy with my canter work today, especially the one tempis because we hit all of the counts," said Donaldson. "I went into both tests knowing that I had to just try my best, because I knew that 'Player' was behind me and I wanted whatever happened to be successful. He tried his heart out."

Robinson, who earned her first medal of the week in the FEI Young Rider Individual Test aboard Indira, found herself overjoyed with emotion at the conclusion of their test, which she noted was the best of their career together.

"This test today was most likely the best test I've ever had in my entire life. I actually came out crying, which never happens for a good reason," she laughed. "It was pretty incredible. Her canter work was just super on point to the aids. She was engaged and beautiful. It was definitely the best ride we've had together."
Nicholas Hansen and Ritter Benno Take Young Rider Freestyle to Earn Three Gold Medals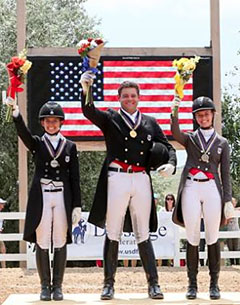 Nicholas Hansen and Ritter Benno swept the Gold medal podium this week in the North American Young Riders Championships in each of the three classes offered to Young Riders. First, Hansen earned Team Gold alongside his fellow Region 1 riders, before continuing his brilliant consistency in the  Young Rider Individual Test and the Young Rider Freestyle. The duo earned a 72.125% to secure the victory ahead of Rebekah Mingari (20, Crestwood, Ky.) of Region 2 aboard Elzarma TF, who collected the Silver medal. Emily Ferguson (20, Winnipeg, Man.) representing the combined team of Ontario/Manitoba/Alberta and Wrazzmatazz received the Bronze medal for their score of 68.295%.

Hansen and Ritter Benno have dominated the competition this week, as the pair did not earn a score lower than 70% for their efforts and have been working towards a strong performance in their last appearance at NAJYRC. Hansen was still shocked with the results, making their conclusion to competition even more bittersweet.
"This is something I certainly didn't expect to happen. You know, the horse works its heart out. I worked as hard as I could and rode as diligently as I could. It's really amazing to see your hard work over the course of the past few years pay off," noted Hansen.
As the pair took to the ring, the notorious Star Wars theme song played through the speakers. Hansen, who is a fan of the storied series, wanted to use something creative for his choreography and musical accompaniment, explaining that as the test continues, the music slowly transitions from the older scores of the Star Wars franchise, to newer versions, ending with the most recent edition.
"I thought it would be something cool to play with. I've always really liked a lot of the scores from Star Wars itself and the way we put it together is that at the entrance of the freestyle that is the original music and then we work through the rest," discussed Hansen. "I always try to ride to music you can hum along to. The part of the test that I'm the most happy with was the final extension to the halt. Out of the corner, he just kind of took me to the centerline. I didn't need to tell him to go. He just knew what we were doing and took me right to the halt at X," detailed Hansen, when speaking of his favorite part of the test this afternoon."
Mingari and Elzarma TF also surpassed their own personal expectations of a final podium finish, as the young mare, at only seven years of age, only recently began contesting Prix St. Georges. Their music, which is a mixture of compositions previously used by the mare's dam, Allure S, in Large Tour competition, received great marks from the judging panel.
"I had a really awesome ride today and my mare put her heart out there for me. The music is actually her mother's [Allure S]. We tweaked everything to fit her routine a bit more and she did an incredible job," said Mingari. "The music fits her very well and it was overall just a great experience."
"The pirouettes and the tempi changes were very good. We went down the centerline and she gave me five perfect three tempis in a straight line and I was really proud of her for that," she added.
Ferguson and Wrazzmatazz have only been partnered together since this past February and the pair have made tremendous improvements in just a few short months before arriving at NAJYRC.
"I thought our half passes were great. He's a very dynamic horse and we're able to increase the level of difficulty by making the angle a bit steeper and he really showed those well today in the ring," she said. "We've accomplished so much in such a short time. It's been a very fun journey for us."
The pair rode to a compilation of One Republic music, which Ferguson says fits the tempo and style of Wrazzmatazz perfectly. She commented, "I love the canter music, especially because it really suits my horse."
Text by USEF - Photos © Sue Stickle
Related Links
Scores: 2016 North American Junior and Young Riders Championships