American Dressage News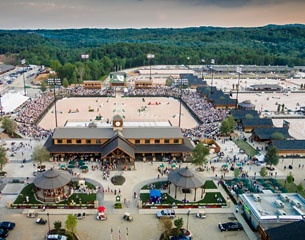 The Tryon International Equestrian Center (TIEC) in Mill Spring, N.C., USA has officially submitted its bid with the FEI to host the 2018 World Equestrian Games after Bromont backed out in July.
The United States Equestrian Federation has communicated its support of the initiative to the FEI for the 2018 WEG. William Moroney, Chief Executive Officer of USEF commented, "While it is unfortunate the games will not be able to take place at Bromont, the USEF believes it is critical that the WEG remain in North America as intended so that the globalization of the sport can continue." USEF President, Chrystine Tauber added "Mark Bellissimo and Tryon Equestrian Partners have a brand new venue, deep experience and sufficient resources to make this happen. They have the USEF's full endorsement."
Both North and South Carolina state and local governments have expressed support of the bid. The last WEG in North America was held in Lexington, Kentucky in 2010. The games had an economic impact of $201.5 million over the event's 14 days according to a financial study commissioned by the state.
Tryon Equestrian Partners (TEP) has invested over $125 million dollars over the last two years developing 1,500 acres in the foothills of the Blue Ridge Mountains to create what they believe to be the premier equestrian lifestyle destination and resort in the world.  The Tryon International Equestrian Center is the centerpiece of that effort. This venue includes 1,200 permanent stalls, 12 competition arenas, a lighted international arena that seats 6,000 (expandable to 12,000) with multiple VIP areas, a large covered/indoor arena that seats 5,000, as well a world-class cross country course which will support both Eventing and Driving.  TIEC is nestled within North Carolina horse country which is accessible to hundreds of miles of equestrian trails to support Endurance.
Tryon International Equestrian Center (TIEC) is strategically located between Charlotte, NC, Asheville NC, and Greenville/Spartanburg SC.  Asheville and Greenville GSP airports are within 35 minutes from the venue and Charlotte-Douglas International Airport is approximately one hour from the venue.
Bellissimo commented, "The WEG is a very challenging and complicated event.  With the exception of Aachen, Germany, most venues are forced to spend many years and tens of millions of dollars investing and developing the venue infrastructure, developing the personnel, attracting sponsors, and managing logistics for the WEG. This takes a financial and operational toll by consuming scarce resources on the venue construction and team building efforts for a one-time event. We have a fully functional equestrian venue, the management team and operational staff, and the sponsor pipeline in place, so the bulk of our energy will be on operational execution and showcasing the event and the sport to the world."
Bellissimo added, "We are uniquely and immediately positioned to hold all eight disciplines within a central venue.  Further, our integrated approach to existing on-site lodging, restaurants, permanent VIP hospitality venues, and abundance of on-site and local area family activities would be attractive for vendors, sponsors, competitors, horse owners, and spectators.  In addition, there are 60,000 hotel beds within 60 miles of the venue. We are confident that these elements would create a very successful games and re-energize the WEG product."
Related Links
2018 World Equestrian Games in Bromont Cancelled, New Location to Be Found
2018 World Equestrian Games Allocated to Bromont
Holzer and Dressed in Black Sweep 2016 CDI Tryon Big Tour