German Dressage News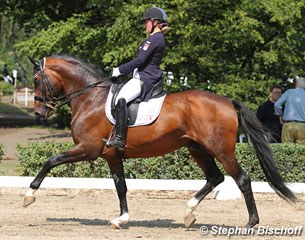 German former pony team rider Sophie Kampmann has leased the Trakehner licensed stallion Kasimir TSF from owner Bernadette Brune as her new young riders' horse.
Kasimir is a 14-year old Trakehner stallion by Ivernel x Charly Chaplin x Arogno, bred by Petra Wilm at Gestut Tasdorf.
As a youngster the bay stallion finished 8th in the consolation finals under Lydia Camp at the Bundeschampionate in Warendorf. Anna Lena Kracht competed the horse at small tour level and they were fifth at the 2011 German Young Riders Championships in Freudenberg.
In 2012 Bernadette Brune acquired Kasimir from Wilm as her small tour horse. The pair made their international debut at the CDI Vidauban in February 2012 and they competed extensively till September 2014. They showed at Saumur, Hickstead, Fritzens, Achleiten, Vierzon, Pompadour, Vidauban, Biarritz and Hagen.
In 2015 Ukrainian Anastasiya Pavelko took over the ride on Kasimir and competed him at the European Children Championships in Vidauban, France. Brune got back in the saddle in July 2015 for three more shows in Cappeln, Saumur and Nice.
Kampmann has now leased the stallion as her new young riders' horse. The pair made its national show debut at the Schiffdorf competition on 14 May 2016, where they placed 5th and 7th in the S-level and Prix St Georges Special class. Since then they competed at the CDN's in Stubben, Hamburg, Bargstedt and Bad Segeberg. At last weekend's Trakehner Championships they were 2nd and 4th at small tour level.
Photo © Stephan Bischoff
Related Links
Anastasiya Pavelko Shines on Kasimir TSF in Children's Division at 2015 CDIO Vidauban
Puvi, Ayache, Truppa Win Big Tour Classes at 2015 CDI Nice
Kasimir TSF Sold to Bernadette Brune