2016 World Championships for Young Dressage Horses
Brand new European Young Riders champion Jeanine Nieuwenhuis won the 5-year old consolation finals aboard Tim Coomans' Dutch warmblood mare Great Lady TC. The top three horses of the consolation finals are allowed to contest the big finals for the 5-year olds, which will take place on Saturday 30 July 2016. Great Lady TC will be joined by Heiline's Danciera and Baccardi.
The show organizers of the 2016 World Young Horse Championships have a jam packed programme to entertain spectators in Ermelo. Two competition rings are placed on the show grounds and the 5-year old consolation finals, as well as a 4-year old national programme and a small tour level international stallion class are also held in ring two. It's a pity for spectators that they have to make a choice what to see as all classes are interesting, but located too far apart to enjoy both simultaneously.
The consolation finals were ridden in the second show arena during the 7-year old preliminary test. Jeanine Nieuwenhuis and Great Lady TC (by Bretton Woods x Osmium) scored a winning total of 83.80 points. The talented bay mare, who already showed off her qualities in the first round but was very strong, dry and numb in the contact with a flash noseband pulled tight, now scored 8.9 for trot, 7.9 for walk, 8.7 for canter, 7.7 for submission and 8.7 for perspective.
Danish Carina Cassoe Krüth and the Danish warmblood mare Heiline's Danciera (by Furstenball x De Niro) were the runners-up with 83.60 points. The refined black mare, whose dam is the full sister to the most popular Hanoverian state stud owned Sire Dancier, scored 7.5 for walk, 9.3 for trot, 8.2 for canter, 8.0 for submission and 8.8 for perspective.
German Claudia Rüscher and the Westfalian stallion Baccardi (by Belissimo M x De Niro) were the third pair to earn a ticket for the prestigious final on Saturday. This German combination followed the numbers 1 and 2 closely with a score of 83.00%. The sympathetic bay stallion, who has a bit of a sunken back but good elasticity in his body and legs, scored 8.5 for walk, 8.3 for trot, 8.1 for canter and submission and 8.5 for perspective.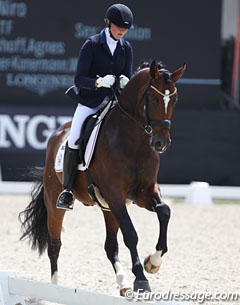 Dutch judge Francis Verbeek, who chaired the panel for the consolation finals, stated that "we were able to add three incredible horses to the final tomorrow. It's a pity we cannot invite today's number 4, Rockson with Severo Jurado Lopez, as well. This is also a lovely horse. Still, the top three was clearly ahead of the rest today. The winner Great Lady TC set a much better performance than yesterday. Her rider Jeanine Nieuwenhuis was crowned European Champion of the Young Riders last week and that may have resulted in a lighter training for this horse in the past week. Today they were on top of their game again. Also the number 2 is an amazing horse with an incredible trot. We are excited and have a very good feeling about these three horses going to the final. Together with the 12 horses that have placed themselves yesterday, it promises to be a wonderful competition. I am looking forward to it!"
Text and photos © Astrid Appels - No reproduction allowed
Eurodressage is on the scene taking photos. If you are interested in ordering prints or digital files for Facebook/instagram, please send us your name and we will mail you the proofs of the photos for you to choose from.
Related Link
Eurodressage Coverage of the 2016 World Young Horse Championships