French Dressage News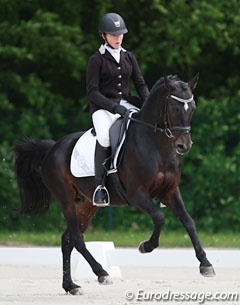 The French equestrian federation has announced the team that will represent France at the 2016 European Pony Championships in Vilhelmsborg, Denmark, on 17 - 21 August 2016.
The French pony team is captained by Muriel Leonardi with Ralph Michael Rash as youth coach trainer.
The French pony team includes:
Tiffen Berger - Pearcy Pearson Junior
Manon Desjardin -  Domenik
Charlotte Palas - Under Cover Fast
Aurore Thevenot - Osbourne
Leana Capy and Olywood de Blonde have been named team reserve.
Photo © Astrid Appels
Related Link
Eurodressage Coverage of the 2016 European Pony Championships